Consigliere
Staff member
Re-Logic
Administrator
Greetings Terrarians!
We are growing ever closer to quite possibly our favorite month of the year. Cooler days? Spooky times? Tricks and Treats? Maybe, just possibly, another Terraria Halloween Contest (we are looking into if we can make this happen)? Count us all the way in! For now, though, let's not sleep on September, because plenty of fun and interesting things took place over the last month. From the rise of more cool Terraria merch to the ongoing development of 1.4.5 to the fall of Unity, September was a month to remember!
Enough with the small talk - let's check out all of the latest and greatest in regards to all things Terraria!

STATE OF THE GAME - TABLE OF CONTENTS
PC NEWS - RE-LOGIC
TMODLOADER NEWS - TML TEAM
CONSOLE & MOBILE NEWS - DR STUDIOS
COMMUNITY NEWS

TERRARIA 1.4.5 - CHOPPING AWAY AT THE REMAINING WORKLOAD
Another fantastic month of development has passed by, and the team is really feeling great about what we have in store for 1.4.5. Another of the music tracks that we mentioned last time arrived over the past few weeks - it still needs a bit of work, but we are really digging it!
As for what to share this month - remember the big Tree vs Axe debate/war/thing? Remember the promises made when the "peace treaty" was negotiated? One of those was a Fairy-Axe pet, and we figured what better way to truly memorialize the community event than by giving this pet a striking resemblance to the de facto leader of the Axe faction...
Cen-Axe does what she wants!
This floating fairy is a menace to any trees that might cross her path. Just don't let her know that she isn't very good at actually chopping them down.
Until next time folks - we are looking forward to finishing the year strong!

STEAM WORKSHOP NEWS
We are creeping ever-closer to 100,000 packs/worlds in the Terraria Steam Workshop! You are missing out if you haven't taken the time to check out these amazing creations from the community.
Click the banner above to check out the Terraria Workshop!

WHAT ELSE IS GOING ON?
Scoping out a few of the larger ideas we might explore, prepping for the Holidays...

As always, keep your bug reports coming via the handy bug report button below!

Thanks again, Terrarians - we are as always blown away by your support!
Back to Table of Contents

​
Hello everyone!
The tModLoader team has been busy fixing bugs and incorporating new functionality into tModLoader. On October 1st our monthly update release of tModLoader will go live. There have been many bug fixes made to tModLoader, but this month's release has a particularly large amount of new functionality for modders to play with.
New features include:
Support for modded Builders Toggles
Modded Emote Bubbles
Rubblemaker support
Reworked NPC buff immunity system
A way to store world header data
The long awaited Extra Jump API
These latest additions have made their way into tModLoader thanks to the efforts of our amazing community of modders who have been willing to contribute to tModLoader. We always encourage modders to continue contributing features to tModLoader, as there is no better way to ensure that TML continues to grow in ways that will best support future modding efforts. Changes like those listed above allow modders the ability to make things that were previously prohibitively complex to implement.
We hope players look forward to mods incorporating these new features and encourage modders to take a moment to test their mods on the preview-v2023.08 Steam branch prior to October 1st to ensure a smooth transition.
We look forward to seeing how mods make use of these new features. As always, if you are having issues of any sort, definitely don't hesitate to check out our
FAQ on github
or reach out to us at our
Discord
.

tModLoader Steam Workshop - New Mods every Day!
The TML Steam Workshop is closing in on 6,000 mods already! Coupled with the in-game mod browser, the TML Steam Workshop is a great way to explore what modded Terraria has to offer - check it out today by clicking the banner above!

WHAT'S NEXT FOR TML?
​
More features, continuing to evolve and grow what TML can do... and getting ready for 1.4.5.
As always, you can keep track of the current progress and much more in real time at
tModLoader/tModLoader
(But note that the completion percentage doesn't mean anything, because issues and PRs don't have weights.)
Developers who are willing to contribute may do so by doing PRs to the
tModLoader/tModLoader
branch. (See
tModLoader/tModLoader
)

TMODLOADER ISSUES/BUGS
The Re-Logic team does not directly develop TML, so bugs with TML are best reported via the links below.
tModLoader - Play Terraria with Mods!
https://tmodloader.net/discord
Back to Table of Contents

CONSOLE & MOBILE - DR STUDIOS
Another month with even more progress on the Console/Mobile front! Aside from keeping pace with our PC friends, the team has had one eye on contingency planning for "what if" we need to swap out the components of Console/Mobile Terraria that utilize Unity. Given recent events, the team feels like this is a prudent step to take so that we can evaluate all possible pathways. Do note that *IF* the need arises for us to undertake such a swap, we do expect that it will take a bit of time. This would delay any in-progress update by however long that takes - our current best-guess being in the two-ish months timeframe. As of today, we are only laying out plans, we have not decided if we will or will not make the shift at this point. If that changes, we will let everyone know. Thanks in advance for your understanding in this difficult situation!
Now, with that out of the way, who wants to see a brand new Terraria 1.4.5 spoiler?!
Somebody out there always has to resort to slinging mud...
Until next time, Console & Mobile friends - thanks for all of your love and support!

The team is feeling pretty good about console & mobile at this point, but we know that the bug reporting never stops! So, please, as you run into any issues, be sure to file a Bug Report via the links below!
CONSOLE BUG REPORTS
MOBILE BUG REPORTS
Back to Table of Contents

​
Greetings Terrarians!
Here's the latest and greatest happenings on the Community side of things. Thanks as always for being the most engaged and awesome gaming Community ever!

TERRARIA MERCHANDISE STORE HUB
The merchandise hub is where you can find all of the latest and greatest Terraria merchandise - with new stuff arriving all of the time! Check out the latest merch drops as well as some classics and pick up that epic Terraria gift for a friend (or yourself!).
Click the banner above to head to
Terraria.org/store
now!

TERRARIA MERCHANDISE UPDATES
TERRARIA - THE BOARD GAME DESIGNER DIARY

Here we are again with the latest "Designer Diary" entry from the lead designer for Terraria: the Board Game - Chris Kingsnorth. Let's see what he and the Paper Fort team have been up to over the last month!
---​
Hello Terrarians!

Chris here, game developer at Paper Fort Games. I'm back with the next instalment of the Terraria: The Board Game designer diary. This month, I'm going to be discussing world generation, updated artwork and Essen Spiel 2023 (the world's largest board game convention).
Planting the Seed
Games with procedurally generated worlds, like Terraria, are a challenge to port into cardboard form. Players have to do the 'heavy lifting' of world generation that is usually handled by the digital game engine, so we need to make sure that this aspect of the game is quick and fun.

At the beginning of Terraria: The Board Game, you'll create a minimap of randomised, face-down biome tokens. As you explore the world, you'll draw and place biome tiles to create the environment, revealing new places to explore, enemies to fight, materials to collect and chests to loot. Whenever you reach the edge of a biome, you'll flip over the next minimap token; this will show you which biome to build next. It's quick, simple and exciting; you can never be sure exactly what's going to be revealed, and every world you generate will be different. As in the video game, you'll also get a choice of evil biome, or you can leave it up to chance during the minimap-making process.
Updated Cover Reveal!
When we announced the board game earlier this year, the cover art reception was generally favourable, but there were some aspects that fans weren't as keen on. We've listened to your feedback, taken the core of what fans and Re-Logic loved about the artwork and overhauled the art style with the help of artist George Doutsiopoulos. Our aim was to stay faithful to Crowno's 2018 cover, while adding new details that will appeal to veteran and greenhorn Terrarians alike. We'd love to hear what you think!
New Miniature Sculpts
Over the past few weeks, we've also been working to maximise the quality of our Boss sculpts. Here are the latest renders of King Slime and Wall of Flesh. As mentioned in my previous update, these Boss models are modular, and as you fight them, you'll remove pieces to track boss damage and reflect other status effects. For example, you'll be able to remove King Slime's outer layers so he shrinks as he loses health. Similarly, WoF will have a removable mouth and eyes.
Come and See the Game at Essen Spiel 2023!
From October 5th to 8th, we'll be showing Terraria: The Board Game at the world's largest tabletop game convention, held in Germany. If you're one of the 150,000 people coming to the show, please stop by and say hello; you'll find us on the Lucky Duck Games stand in Hall 3 (booth number 3S124).
Don't Miss Out!
If you haven't already, please sign up at

TERRARIA: THE BOARD GAME NEWS SIGN-UP LINK

and be sure to click through to the Kickstarter 'notify me' page. We'd be very grateful if you could share the link with fellow Terrarians via social media; you're always welcome to tag us in using @paperfortgames.

Until next time!
---
Sign up for the latest and greatest news on Terraria: the Board Game via the link below:
TERRARIA: THE BOARD GAME NEWS SIGN-UP LINK
In case you missed the big reveal, be sure to take a minute to read our post about Terraria - The Board Game, which contains details about timing, how it will be sold, and more!
TERRARIA - THE BOARD GAME DETAILS

TERRARIA GRAPHIC NOVEL SERIES
We just wrapped up inks for Issue 5 this week, which just leaves colors and lettering before the next installment in our adventure should be ready to go! Additionally, we are very close to a final script for Issue 6 - so things are really starting to pick up. We are very excited to get these out to everyone and see what you think!
Alongside the actual issues themselves, the art team has been spending some time pulling together some goodies that we plan to offer with the next rollout. We thought we would take a chance this month to share a few of the sticker designs that we recently completed. If we can get colors down the road far enough, perhaps we will tease a page (or part of one) from Issue 5 next month!
The sneaky Goblin Scout and mysterious Traveling Merchant, in the same chibi style as the stickers from Book One

OTHER COMMUNITY NEWS
RE-LOGIC STANCE ON UNITY & SUPPORT FOR OPEN SOURCE GAME ENGINES
In case you missed it, Unity recently introduced some changes to their Terms of Service regarding fees - specifically adding a "charge per install" component that would be in place for all games (new and existing) starting January 1, 2024. This resulted in an almost-universal protest from the game development community. While Unity has in recent days made adjustments to this plan that are far more palatable to developers and publishers, Re-Logic stands by its statement and actions outlined in the image below:
*Note: Monogame was added in the days following the initial announcement. It has been added to the image above for ease of reading and clarity*
We hope that everyone will join us in supporting a future where robust open-source game engines and tools exist so that up-and-coming game developers can get their start without having to worry about situations such as the present Unity dynamics. Accessible and powerful tools will only serve to raise up the next generation of indie games for us all to enjoy!

TERRARIA MEDIA SPOTLIGHT
The Terraria community is filled with incredible fan media. We love to browse Terraria associated social pages and check out the creative minds sharing wonderful creations. We wanted to spotlight some of the trending media that caught our attention this month. Please let us know if any of the shared media has a different original creator.
(CLICK A GIVEN IMAGE TO HEAD OVER TO THE THREAD WHERE WE SAW IT)
FAN ART & BUILDS
Queen Bee and Plantera by
@CrisCthulhuXD
Beachside Mansion for Stylist by
@greyliances
Cobalt armor by
@GreyL1me🌳
Ocean house by
@h4zel
Santa NPC by
@The_Idiotic_Banana
Gothic mansion by
@Laqwerty
Haunted Ship by
@danielbeta321
Queen Bee by
@PoundToundHound
Honey build by
@lookitsducky
Aether outpost by
@WullisDull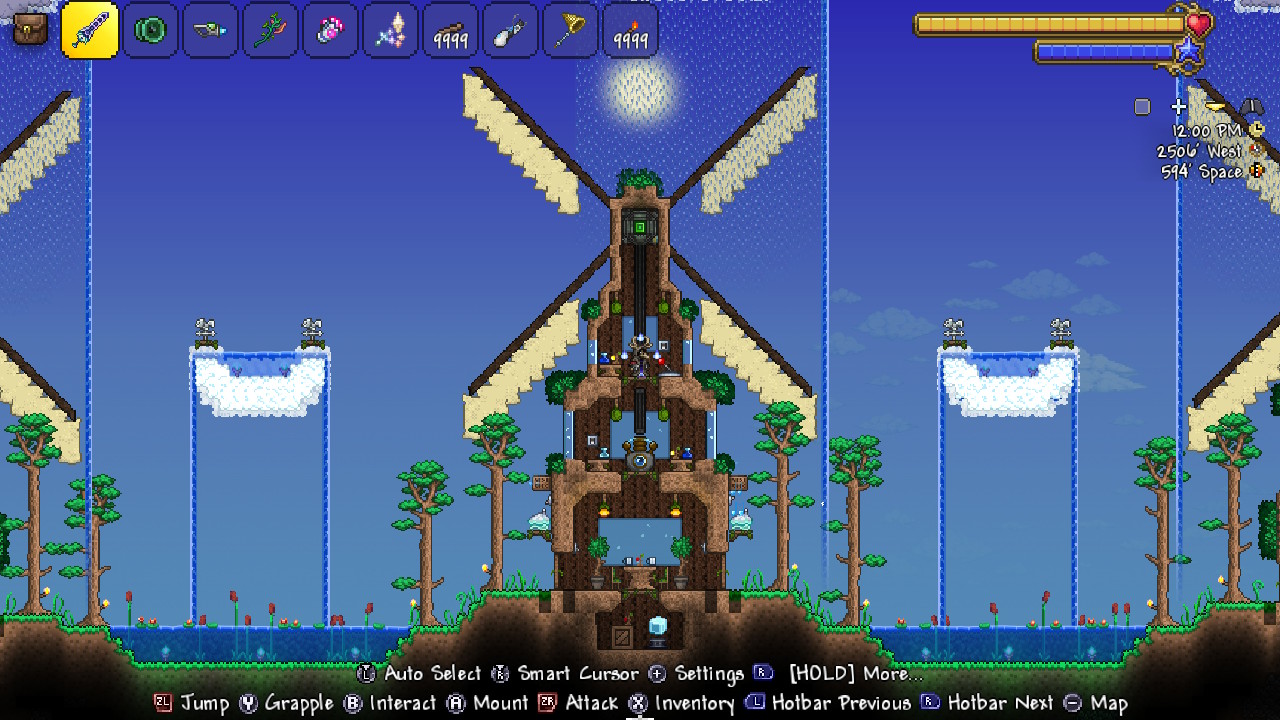 Windmill station by
@Kubiquity^3 🌳
Tree by
@Flaxes
Impossible Palace (modded) by
@IanOsmium
Forest Pylon House by
@Femtonde_masker



Until next time, Terrarians - we hope you have an amazing month, and we look forward to bringing you the latest and greatest next time!

Back to Table of Contents
​
Last edited: