Hello, and welcome to my forum thread! This is for all of my mods.
Requirement for most of my mods (basically all of them right now, actually):
ShaderLib has a
github
!
Shader Library, or ShaderLib for short, is a modding library of sorts that gives modders a variety of tools
for manipulating Terraria's shader system, also known in-game as "dyes."
Currently, the library supports the addition of new ArmorShaderData, or "armor shaders" - the typical dyes.
There are also a variety of "hook" lists that allow modders to apply shaders to various objects.
At the moment, these objects include projectiles, NPCs, items (in inventory and in world), and held items (items in use).
Also, at a more technical standpoint, the mod/library breaks the game's 255 dye limit by being cool.
ShaderLib is required to use any mod that uses it, obviously.
Download on the Mod Browser.
Changelog:
- 1.0: Official release.
- 1.0.1: Fixes modded dyes not working on modded accessories (and a few vanilla ones), held item shaders now apply to items that are just being held (torches, Unicorn on a Stick), and fixes item flame shader hooks
- 1.0.2: Re-uploaded for 0.10.0.1 (needed no changes, surprisingly)
- 1.0.3: Fixed zoom issues (turns out it did need changes after all)
- 2.0: Vastly reworked internals, includes Vanilla Dye Fix & 1 other feature
- 2.0.1: Fixes bug with drawing in flipped gravity
- 2.0.2: Fixes a drawing derp that made things blurry
- 2.1.0: Some weird update doing some weird things
- 2.1.1: ???
- 2.1.2: Added WeaponOut support for held item shaders, affects Item Customizer
Ever wanted to dye your items? Well, now you can:
Item Customizer now has a github!
Check it out!
This mod lets you dye your items and make really cool things, like this: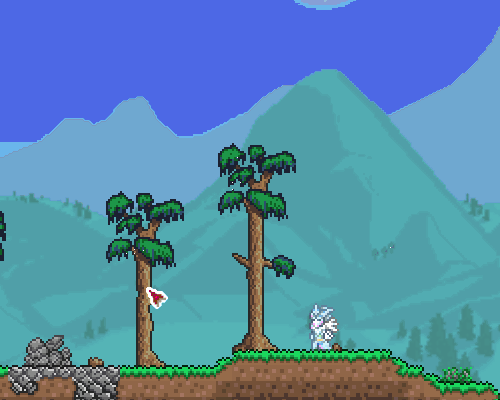 You can also rename items to your liking (this does not affect prefixes).
As you can see in the gif, when you dye items you dye both the held item and any projectiles that the item shoots.
If an item uses ammunition, the projectile dye will come from the ammo item instead.
As of Item Customizer 2.1, dusts fired by projectiles and melee weapon swings are also dyed (this is not shown by the gif, it's old).
Equipment can be dyed, too - when there aren't any dyes equipped in the same slot, it'll use the dye on the item!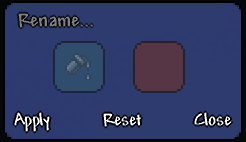 This is the GUI. Rename the item using the text box.
Place any item in the right slot, and a dye in the left (unless you don't want a shader) and click the "Apply" button. (Dyes are not consumed in the process)
Take the item(s) out and enjoy! Modded items with custom drawing or projectiles should be compatible too, provided they don't end/start the SpriteBatch (and none do that I know of).
Any mods that add custom dyes should also work provided that they add their shaders using ShaderLib.
Oh, yeah, and that Reset button - click it and it clears both any name change and dye from the item in the left slot. Pretty nifty, eh?
Items also have dyed icons, so you can see the dye from your inventory!
If you have WeaponOut, held weapons get dyed, too!
Craft the item to access the GUI with 5 iron/lead bars and 1 Strange Plant at an anvil. It's got the same texture as an anvil, because I'm lazy.
Download: Mod Browser
Changelog:
- 0.5: Inital distributed release. Pre-Mod Browser.
- 0.6: Fixed dyes being applied to things that shouldn't be (enemy projectiles, pets...)
- 0.7: Item icons (in inventory, world) show dye, consumables now dyeable, fix for minions, draggable GUI
- 0.8: Improved shader drawing, check for if player is actually using item
- 0.8.2: Fixed certain shaders looking strange on multi-frame projectiles, stopped older undyed projectiles from getting newer dyed projectiles' dyes
- 0.9: Complete multiplayer support, UI saves items instead of deleting them, autopause support, proper child projectile detection, no NPC projectile dyeing, can customize stackable weapons (Light Disc etc.)
- 0.9.1: After waiting for much too long, updated for Terraria 1.3.3.3.
- 0.9.2: After waiting for a much shorter period, updated for Terraria 1.3.4/tML 0.9.
- 0.9.3: Fixed crashes in tML 0.9.2.
- 1.0.0: First release to be fully integrated with the new ShaderLib, fixes multiplayer rapidfire bug, and stops items losing data on reforge
- 1.1.0: Updated for tML 0.10.0.1, featuring a revamped UI, both internally and externally
- 1.1.1: Items don't lose names or dyes on reforge... again
- 1.1.2: Shouldn't crash on starting multiplayer and solves the accidental shading issue at last (by throwing out all the annoying logic and using something better)
- 2.0: Now uses ShaderLib 2.0. Fixes UI crashes in multiplayer.
- 2.1.0: Now features equipment dyeing, undyed ammo projectiles, projectile and melee dust dyeing, and a few too many bugs
- 2.1.1-2.1.3: bug fixes lol
- 2.1.4: netcode fixes lol
-
2.2.1/2.2.2
Credits:
-Myself, for making this mod (I mean, I did put a bunch of work into this, right??)
-The TerraUI team (
@Boffin
,
@abluescarab
) for making the TerraUI Toolkit which I used to make the GUI in this mod (well, ok, not anymore, but it was helpful in the early days!)
-The tModLoader team for making tModLoader, of course
Known Bugs:
-- Sometimes I've seen a Meowmere fail to fire dyed projectiles. Re-dyeing caused it to fire correctly again. Cause unknown.
-- There can be weird things when stacking consumables with differing names and/or dyes. This cannot be solved in a way that I am aware, so it's staying for now.
-- Projectiles which are both friendly and hostile (such as bee hives) may get accidentally dyed if created while using a dyed item.
Some extra dyes to play with:
These two mods are the first of their kind: they add new dyes to the game!

Hair Dye for Armor allows you to equip hair dyes with exclusive effects as regular dyes while
Secret Dyes adds in dyes from unused shaders in the game's resources (some look really cool!).

Download both from the Mod Browser.

Changelog (Hair Dye for Armor):
- 1.0: First release
- 1.0.1: Fixes dyes broken by changes in ShaderLib during development
- 1.0.2: Updated for 0.10.0.1
- 2.0: Updated for ShaderLib 2.0. Now allows equipping related hair dye instead of using new items. Old items will become unloaded items, sorry.

Changelog (Secret Dyes):
- 1.0: First release
- 1.0.1: Updated for 0.10.0.1
- 2.0: Updated for ShaderLib 2.0. Dev dye doesn't shift when changing player direction anymore.
- 2.0.1: Rebuilt for ShaderLib 2.1. Really I don't know why it needed this.
Making Pet Dyes Great Again:
This mod is now a part of Shader Library. DO NOT use this anymore, it will crash!
A very simple fix which uses the same formula that I developed for the Item Customizer mod for better shader rendering.
What's the fix for? Well, if you've ever tried putting certain dyes on a pet, light pet, or hook, you might have noticed it looks absolutely horrid:

Here's what Vortex Dye on a Zephyr Fish looks like now:

Much better, right? This mod affects all pets, light pets, and hooks, as well as the Stardust Guardian.
Changelog:
- 1.0:
First and likely final release.
haha nope
- 1.0.0.1: A patch which fixes potential accidental shading of unshaded projectiles which were created before the pet/light pet/hook.
- 1.0.1: Mod now uses ShaderLib instead.
- 1.0.2: Updated for 0.10.0.1. Actually, it didn't need to update at all, but I had to rebuild to stop tML from believing it was outdated. And increase the version number, of course.
Download: Mod Browser
Credits:
- Same as for Item Customizer. This is basically just a segment of code from over there anyway (well, now that bit of code is in ShaderLib and this does barely anything, but yeah)
Make things stay as they were when you left:
World Persistence is a simple mod which makes you, dropped items, NPCs, and projectiles persist when you re-enter a world.
Just in case anyone starts wondering: this was before Overhaul was a thing. I didn't make this to port/enhance an Overhaul feature.
You won't appear back at spawn when you come back - and non-town NPCs, bosses, minions, dropped items, and debuffs stay where they are, too.
Use the config to toggle the following persistence options:
- Player position, velocity, fall height data, mounts and minecarts, rope climbing, and wing time
- Player debuffs, health, mana, and breath time
- (Disabled by default) Grappling hooks
- Dropped items
- (Disabled by default) Non-town NPCs and projectiles, highly experimental, use at own risk (should work okay for most vanilla NPCs, no guarantees for modded ones, does not save modded data like dyes or prefixes)
Changelog:
- 1.0: Initial release.
- 1.0: The actual initial release, that isn't a completely unusable heap of disaster.
- 1.0.1: bugfix
- 1.1.0:
update post
Last edited: