Moderator
Staff member
Moderator
Welcome one and all, to a very special issue of the Creation Compendium - #50!
To celebrate, we have hand picked our favourite issues from all 49 previous issues for you to look over, and perhaps feel a bit of nostalgia. We hope you enjoy!
Sadly, it wasn't possible for us to pick every one of the amazing entries, so feel free to share your own favourites below. (Make sure to credit the creator!).
As usual, before we start I'll remind you to send your entries for next month to
@QuackersDelta
- Here's a snazzy guide on how to enter. Make sure to read the rules of entry too:
Creation Compendium Rules, Regulations and FAQ:
1) All entries must be submitted to the hosting member's profile NOT via PM. (See the previous CC to determine who is next on the rota.)
2) All entries must be Terraria related in some way or another, whether that is ingame, art, music literature or any other form of creativity.
3) Each user may only submit one entry per month. Group entries are allowed, but all members who worked on the project must be credited and proof of consent from each member must be given. Group entries do count as a user's single entry.
3) Plagiarism is strictly not tolerated. Any evidence of such matters should be sent to a member of staff privately as soon as possible. The CC operates on a 'two strikes and you're out' system; after two offenses a user will be permanently banned from entering into all future Creation Compendiums.
4) The CC is a showcase, not a contest. All entries submitted (that are within the rules) will make it into the post.
If you have any more questions, feel free to ask
@darthmorf
,
@QuackersDelta
or any other member of staff.
I'd also like to thank
@Khaios
for the sweet celebration themed logo and divider he made for us!
~ Click here for last month's Creation Compendium ~
​
Now, let's get started!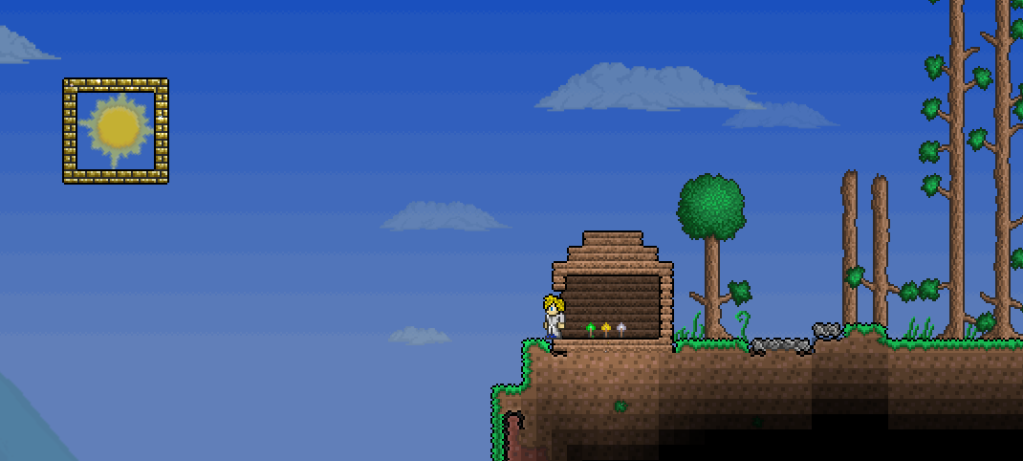 Creation Compendium #1 - Stackerzgame
Sadly there are only two entries from the first CC that are still working. This is our favourite - it shows off Terraria's humble beginnings.
Frustratingly CCs two through four have been lost in the mists of time...
Creation Compendium #5 - ElBucho
ElBucho's build features plenty of rooms for all the NPCs (that existed at that time!). It even features a lava moat to ward of enemies, as well as a demon alter deep in it's dungeons to enable forbidden crafting recipes...
Creation Compendium #6 - King Colin
A humongous jungle base, complete with floating biome orb, underground space invaders and a buried temple. This is by far the most detail CC entry yet. The time it would have taken to screenshot this alone is staggering!
Creation Compendium #7 - Fire_Archer
The coloured lighting adds a very appealing aspect to this otherwise minimalistic build. Coupled with the symmetry, this is build is very pleasant to the eye.
Creation Compendium #8 - Bumblebeetle13
A nice rendition of the hottest member of the twins - Spazmatism. Simple yet elegant, and captures the details well!
Creation Compendium #9 - TheMuteLibrarian
Although zoomed out quite far, this build contains an intricate pattern in addition to an interesting colour scheme. A shame there's no close up version!
Creation Compendium #10 - Hex Server
An angry looking purple dragon, standing on an arch of bones. Scary stuff! Let's hope that player standing in his mouth survives.
Creation Compendium #11 - BumbleBeetle13
A fearsome looking golem - just look at the anger in his eyes. You probably should have left him dormant in the temple!
Creation Compendium #12 - The Rubystar
A nice winter themed snowman from Rubystar - although it looks pretty stylish, I feel it may be a little cold to live in! Not to mention it's glowing red eyes...
Creation Compendium #13 -
@Luneria2
This build has a nice, ruined aesthetic, something not really seen in the CC before this. The flowing water adds a nice touch; a contrast to the green and brown dominating the build.
Creation Compendium #14 - Luke Oliveem
A funny parody of the film and TV series Ghostbusters, this pixel art is certainly unique. But it begs the question, When there's something slimy, in the neighbourhood, who you gonna call?
Creation Compendium #15 - Duck Mask
A relaxing snooze on a floating island, watching the sun set. What more could you want?
Creation Compendium #16 - gamekgil
The first ever speedbuild entry - a nice simple ice fountain. Sometimes you don't need complexity to create something beautiful.
Creation Compendium #17 - PopLlama
Awwwwwwww
Creation Compendium #18 - ThewolfMI
A stunning 3D rendering of an Eater of Souls. These would be truly terrifying in real life!
Creation Compendium #19 -
@Dispersion
Welcome to TCF - CC#19 was the first to be posted on this brand new site. Dispersion sets the bar high with his extremely creepy art of the Spooky Wood set - I would not like to bump into this guy on a dark night.
Creation Compendium #20 -
@Khaios
A very interesting concept for this build - a Ying-Yang representing the relationship between the Hallow and the Corruption. Micro-biomes like this are always very interesting!
Creation Compendium #21 -
@ZeroGravitas
This entry is something very special - one of the first appearances of Hoiks - now a staple in the Terraria Mechanical Engineering Corps.
Creation Compendium #22 - @PuppyLover6
A great informative flowchart illustrating what to do with picked up items. I think even the most seasoned Terraria player can learn something here.
Creation Compendium #23 -
@Izzabelle
A lovely piece of art showing off Spectre armour, a Blizzard Staff and a Wisp. This mage is not to be trifled with!
Creation Compendium #24 -
@Daimera
A stunning real life recreation of the Night's Edge sword. There isn't much for me to say apart from the fact that it's awesome. Check out her thread.
Creation Compendium #25 -
@ajidot
Phew, we've made it half-way. To greet us is this great drawing by Ajidot showcasing an array of NPCs, including a particularly evil looking Goblin Tinkerer.
Creation Compendium #26 -
@Corenality
Another display of some of the many NPCs in Terraria, this time in detailed pixel form. I wonder how Terraria would look in this sort of art style?
Creation Compendium #27 -
@ppowersteef
Fresh off the 1.3 update, ppowersteef gives us a nice piece portraying three of the four Lunar Invasion armour sets. These players are about to kick some lunar-

!
Creation Compendium #28 -
@Curt0815
A mind-blowing 3D build in a 2D game. Curt's level of perspective is something stunning, and that combined with his attention to detail makes for an astounding entry.
Creation Compendium #29 -
@Scarecrow
A lovely piece depicting a wisp, free from it's bottle. Personally, I'm a big fan of the lighting Scarecrow has created - the skull certainly looks as if it is aflame in some sort of dungeon fire.
Creation Compendium #30 -
@Ofelie
These two players look well equipped to face whatever Halloween can throw at them. Pumpking will be quaking in fear when he catches sight of these two.
Creation Compendium #31 -
@Nirvloyd
Nirvloyd has drawn some great representations of the major 1.3 weapons - they look truly awesome. Not only that, but the neat looking backgrounds and Moonlord-themed border make this a really unique entry.
Creation Compendium #32 -
@Strik3r
An extremely pretty 3D rendering of an underground mushroom biome. Strik3r has done a great job of capturing the atmosphere of these subterranean fungi.
Creation Compendium #33 -
@sma
A lovely real life piece of art this time - a hand-stitched Plantera. The creativity of the Terraria Community never fails to astound me.
Creation Compendium #34 - Ada
Wow, another real life Plantera entry! This one is a great painting of our favourite plant-based boss. Normally she'd become enraged in the open air, but I don't think anyone could be when presented with such a lovely view.
Creation Compendium #35 -
@PersonaTea
This drawing of The Destroyer is pretty darn terrifying (almost as much as the 1.2.3 update)! Imagine this bursting out of the ground straight towards you...
Creation Compendium #36 -
@Elin la Verde
Following a similar theme, Elin la Verde presents us another terrifying mechanical boss. This time, The Twins!
Creation Compendium #37 -
@Rya
This animation really makes me feel how cool some sort of 3D Terraria game could be. Make it happen Re-Logic! On a more serious note, animation and 3D rendering takes a long time. Rya's done a great job.
Creation Compendium #38 -
@Lady Nesca
A cute little piece of art of a new player fighting The Eye of Cthulhu, backed up by a trusty slime minion.
Creation Compendium #39 -
@BUNCE
An admittedly slightly over prepared player in Solar Armoured fighting the Pumpkin Moon - I'm sure they'll be able to beat the Mourning Wood just fine!
Creation Compendium #40 -
@Willsm
A great detailed pixelart of Redigit in his developer armour - pretty cool, and at this point I think it worthwhile to plug the Redigit IRL thread!
Creation Compendium #41 -
@Khaios
A beautiful cherry tree with some amazing looking oriental buildings, bamboo, and even a hot spa pool! What more could you want?
Creation Compendium #42 -
@Daria_O
A Stunning in-game pixel art/build by Daria - if you only saw the map view you would have no idea that it was built within Terraria!
Creation Compendium #43 -
@Daimera
A cool piece of art, combining both Plantera's name and visage. Daimera has provided something that stands up to her usual high standards!
Creation Compendium #44 -
@TheMagicFreeze
A lovely wintry build from TheMagicFreeze - it really gets me in the Christmas mood! A shame it's summer at the moment...
Creation Compendium #45 -
@Local Tree
'Genesis of the Sky' - a flying ship with a variety of rooms for every occasion. This mean machine is truly a scourge of the skies.
Creation Compendium #46 -
@Jestex
A stunning animation displaying Tim the Sorcerer's true form. Thank god he doesn't have an attack that powerful in-game!
Creation Compendium #47 -
@Harpps
An amazing real life drawing of the Terrablade. It's great to see different people's impressions of the weapons in more detail than exists within Terraria.
Creation Compendium #48 -
@Daimera
Daimera's impression of the Wall of Flesh really puts into perspective how terrifying facing it would be. Let us hope that the voodoo doll was not dropped by accident!
Creation Compendium #49 -
@anna.writerchick
Unlike conventional tree-houses, this tree house is actually constructed from the tree! A great, complex build full of detail. Not to mention the more conventional house on the right.
By
@Arpiter
Congratulations! You made it to the end of the highlights! Onto this month's entries...
@Daimera
@Khaios
@darthmorf
@Flippi
@CursedMoose
@Evilin
@Architect
@ZRune
@Burst
@Xag
@ian.vosk
@juchuchuu22
@PeladitoChingon
@HaruTerraria
@Demorticue
@HaloCavest
@Star
@Peetaco
@TheGreenTruffle
@DerpoTheMagnificent
@Sgt Efx
@amenyoussef
@Haidenisa
@neoselket
@Techhunter_Talon
@CheesyPaninie
@Zombear
@MarshMallow
- Thank you

@KinoCornell
@KinokaNami
@Dg-vr
@Dr.Madness
@XxEyeofCthulhuxX
@Terrathomas
@ArmyFrog
@WylaxX
@Third
@Jirachi
@GriffdeBiff
@MoonLordSlayer
@happytown
@Sindarin
@Vicтσяєммαиυєℓℓєσи
@Eris Falling
@Endertron51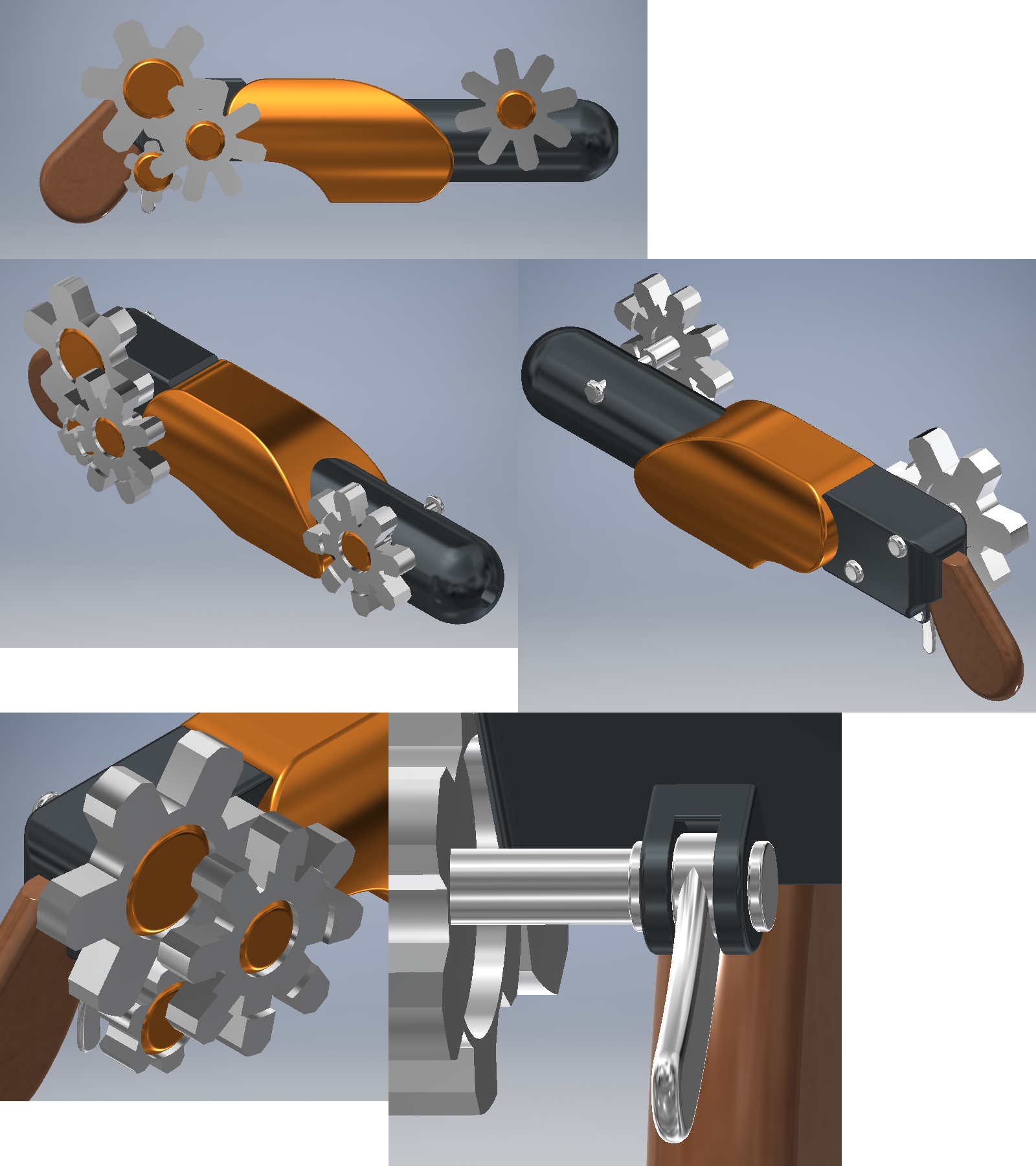 @Hathena
@Kyudan
@AlphiReborn
@Loffy09
@c2Fk
@Tenthy
@@Kuruzeus
3D Version
@Wall of fish
@Zafang
@Qui Devorat
@MagickTaylor
@ONLY A Random User
@Jetstream ∞
@Daria_O
@EyadXN
@ChaoticFlame
@Blobtits
@ppowersteef
@Shaedric
@anton.kurkin
@M4D-4LI3N
@ONLY A Random User
@diekonradish
@Dertiz
@cheeftnx97
@anna.writerchick
@Heretic
@TriforceShard
Thanks for reading through this extra special Creation Compendium - we've enjoyed sharing some history with you and look forward to many more issues in the future!
Last edited: