Baghnakhs are brokenly powerful. Even after I heavily nerfed it's potential upscaling, it's RAW DPS far outstrips any other pre-Mech melee weapon. The weapon honestly should have been nerfed far more than it was, and though it sets an ostensible "ceiling" on melee damage, it should never be treated as the standard.
Yeah, can agree with this point of view. Creating another Fetid Baghnakhs will hurt balance rather than improving it.
Have any of you guys looked into Ham Bat's Well Fed systems at all? Some of it's balancing was based on players optimizing around it and using it at it's best tier, where it gains a fairly decent amount of DPS.
As I understood (maybe incorrectly) is that Ham Bat is best used with T3 food without abundance of other offensive buffs/accessories etc. (Food must be given a focus)
I see Frostbrand being thrown around a lot; this is a good choice. I specifically used Beam Sword as part of my consideration.
So let's try Ham Bat against Frostbrand and Beam Sword with and without buffs on top of T3 food in defensive/offensive builds: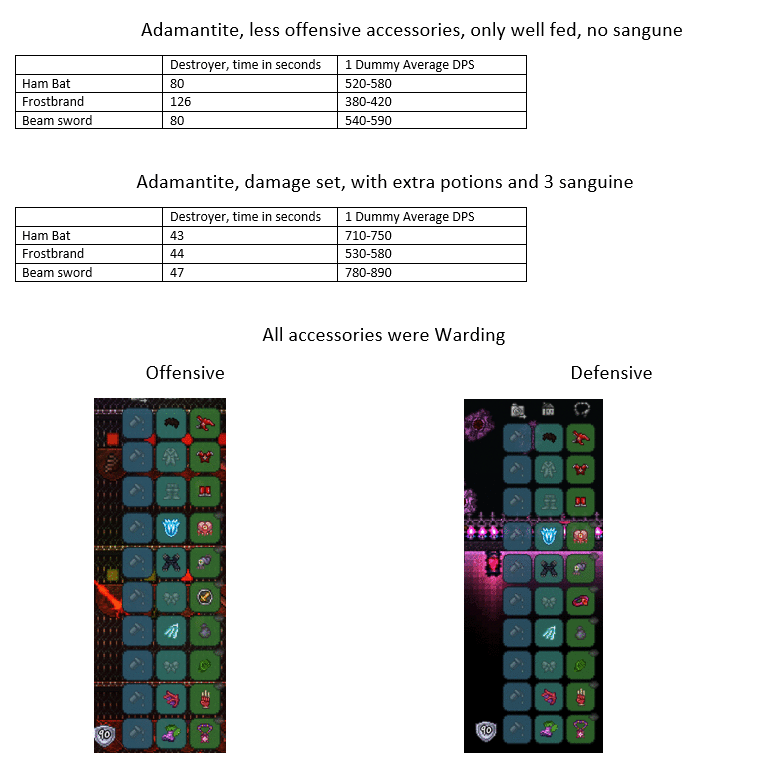 Yes the gap is larger between Ham and Frostbrand when Well fed is the main buff, but Beam sword can keep up with Ham bat.
Abigail
I'm not even close to being an expert in game balancing, but I think Aby is okay as of now. Making her much more powerful at all progression stages may repeat the fate of Calamity's Legengaty weapons (they scaled throughout all the game and were so powerful, that one could finish the entire game with only one weapon). Alternatively, OP Aby may just make all Pre-HM minions not worth trying.
I consider Aby as a plan B in summoner progression, or as a patch for this class' weaknesses. Prior to DST crossover update, summoner struggled against early-HM bosses (QS and Dread for Blade and Sangune respectively). Now Aby serves as an effective minion for both, while having way above average mobbing/invasion potential with FC. This is a very strong niche, good job on balancing that one. As for pre-HM, yeah, she is weak-ish on some bosses (good on BoC though), but ultimately, it doesn't matter to me.
Similarly, Pew-Matic Horn (underpowered or not) should not be approaching Molten Fury or Phoenix Blaster in power.
Pew-Matic horn... I understand you as a person responsible for game balance. It is just hard for me to think that easy EoW can give access to stronger Molten Fury, while much harder Deerclops give you weaker Pew-Matic horn. Difficulty is a highly subjective concept, but for the sake of objectiveness EoW is an easily cheesable boss. These factors make a lot of contrast and diminish the value of Pew-matic horn. I suggest just closing the gap between molten/hellstone and Pew-matic horn in this case from 40% to like 10%.
As an aside, did you guys notice the Defense piercing? Thoughts? Did that factor into any of the considerations? I've found that Defense piercing has been a great boon to me with balancing certain weapons, and it seemed like it was a useful one here. But I'm not seeing a whole lot of negative feedback here for Weather Pain, so I guess I'm asking for more feedback, since it does not seem quite as one-sided as other items.
Yes, it is useful. But in pre-HM, enemy defence values are not that high (low health QB is an exception, so as Skeletron Head with arms alive) and this thing hits not too often (6 times/sec).

I assume you focused on Blade staff defence pierce, but that thing is a completely different beast. Firstly, HM enemies need defense reduction more than pre-wall ones. Secondly, 7 Blades hit at an approximate rate of 30 times/sec and utilise defense reduction perk 5x more effectively. So the difference is just incomparable. I would rather prefer more

long-lasting and non-conflicting with other piercing projectiles

for Weather Pain.

Please, I literally cry inside, make

Rainbow Gun

not to conflict with other piercing projectiles, please, please, I beg you, dear developers
Last edited: