Consigliere
Staff member
Re-Logic
Administrator
Greetings Terrarians!
Welcome to 2021! Here's hoping that the new year has as much good in store as 2020 had bad... then again, 2020 brought us Journey's End for Terraria, so maybe in this context we can hope that 2021 brings us more Terraria goodness? While action on the PC front is focused on Workshop as well as some team learning activities, development on Console (with even a little new tidbit for you Mobile fans) continues to heat up. On top of all of that juicy news, we will be setting the stage for what comes next after everyone reaches Journey's End and we have all platforms at parity later this year. There's no better way to kick off Terraria in 2021 than an action-packed State of the Game... so let's dive right in!

STATE OF THE GAME - TABLE OF CONTENTS
PC NEWS
TMODLOADER NEWS
CONSOLE/SWITCH NEWS
MOBILE NEWS
COMMUNITY NEWS

PC - RE-LOGIC
STEAM WORKSHOP SUPPORT FOR TEXTURE PACKS AND WORLD SHARING STILL IN DEVELOPMENT
Alright, here we are in 2021 - a year that we personally think holds so much in store for Terrarians everywhere as well as for our little studio as we have eyes on both the present and the future. Steam Workshop support remains well under development for Terraria, after a bit of a slow period over the holidays (hey, even we crazy folks at Re-Logic need a bit of rest from time to time). We do not quite yet have an ETA to provide on when this will release, but we are hopeful that we will have a better sense of a launch window soon.
Again, we would encourage everyone to check out what is already on-offer in regards to Texture Packs and Worlds here on TCF - both for ideas and to see what might hopefully be available on Workshop in the near future!
TERRARIA TEXTURE PACKS ON TCF
TERRARIA WORLDS ON TCF
As a reminder, Steam Workshop for the core Terraria game
will not support Terraria Mods
- as for all things Terraria Mods, that remains firmly in the realm of tModLoader and the team behind that!
So, what else has been going on with the Re-Logic team? Well, with Terraria content updates behind them, our art team has been taking some time to expand their skillsets a bit by messing around in Unity. This allows the team to continue to grow and remain productive even as we are in a period of relative downtime in terms of art needs. None of this should be taken as "OMG new game!?!" - these are merely learning activities to help our team grow in capability.
The art team has also been messing around with different art styles - again this should *NOT* be taken as "art for a new game", these are just learning exercises to expand our skillsets as a team.

SOUNDTRACK UPDATES
We are getting ever-closer to the release of the Terraria Collector's Vinyl Soundtrack - there is still time to get your preorders in so that you can be among the first to have this amazing set!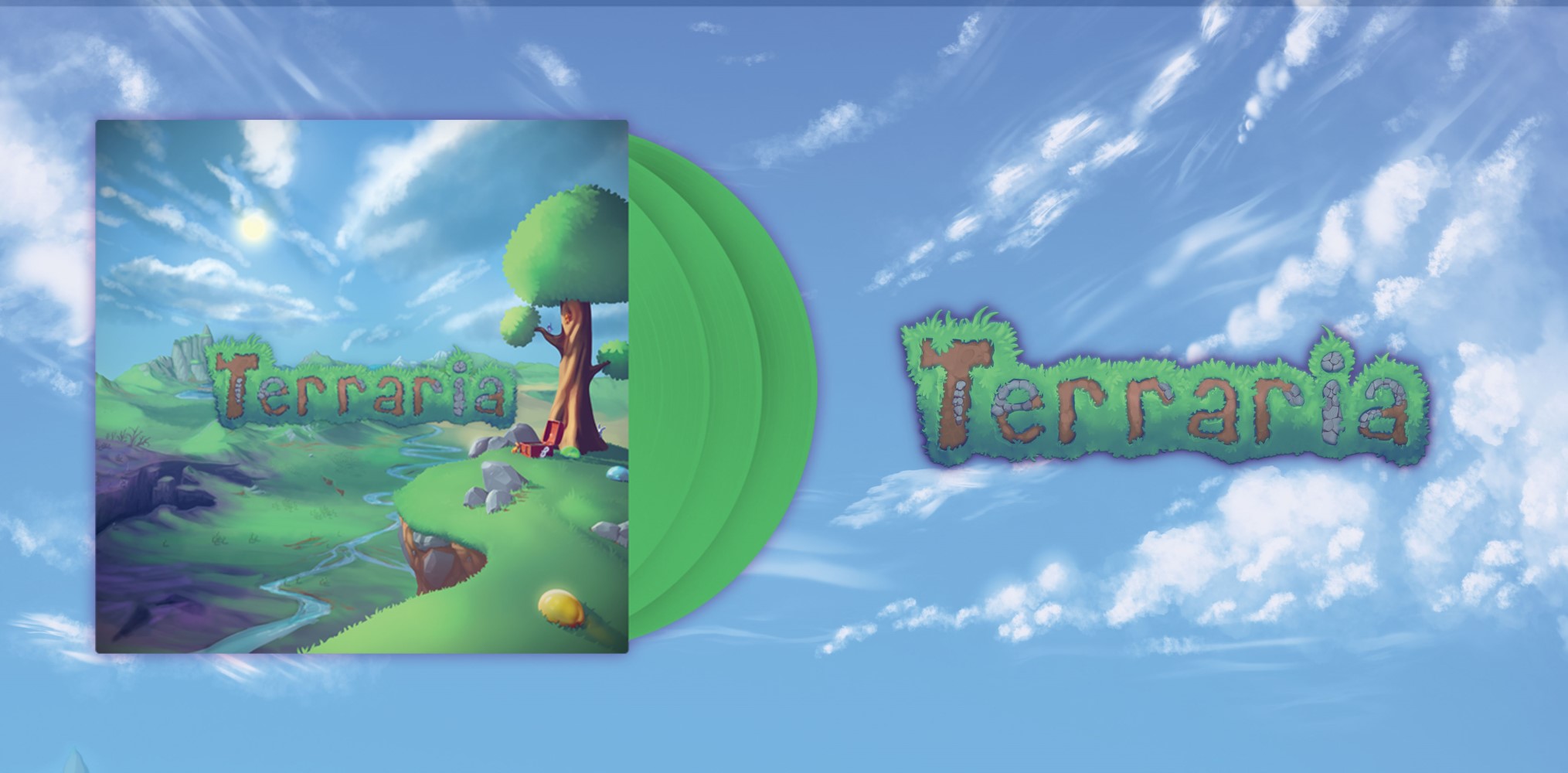 TERRARIA OFFICIAL SOUNDTRACK COLLECTOR'S VINYL
Sixty tracks, clocking in at over 110 minutes of epic music across three full-length vinyl green discs - wrapped up in a package full of custom Terraria artwork designed specifically for this release by Re-Logic's own artists, the Terraria Official Soundtrack vinyl collection is a must have, if you ask us. We have had the distinct pleasure of working with the amazing folks over at Laced Records on this for some time now, and we could not be more excited to be able to finally reveal it to all of you.
PREORDER YOUR COPY NOW HERE!

Be sure that you are up-to-date with the latest and greatest on this front via the Hotfix Changelog... and keep your bug reports coming via the handy bug report button below!
Terraria: Journey's End - Hotfix Changelog

Thanks again, Terrarians - we are as always blown away by your support!
Back to Table of Contents

TMODLOADER NEWS - TML TEAM
The tModLoader Team remains hard at work on getting TML up to the 1.4 era. They just recently announced on Twitter that they would be bringing on a new team member to the core TML Team to help accelerate progress towards bringing TML up to the Terraria 1.4 era.
Please join the TML team in welcoming their latest core member!
Community Contributions are most welcome! If you would like to help out or learn more, check out the tModLoader Discord >
https://tmodloader.net/discord
Hopefully, it will not be too much longer!

TMODLOADER ISSUES/BUGS
The Re-Logic team does not directly develop TML, so bugs with TML are best reported via the links below.
tModLoader - Play Terraria with Mods!
https://tmodloader.net/discord
Back to Table of Contents

PlayStation 4, XBOX ONE, Nintendo Switch - DR STUDIOS
LOOKING AHEAD TO A POST-PARITY WORLD - THE FUTURE OF EXCLUSIVES AND WHY
Two of the most frequent questions that we receive (both DR and Re-Logic) are:
What about <exclusive boss/item>, when will it be added/will it be removed?
and
Crossplay?
​
We would like to take a few moments today to provide a bit of insight into these two important - and inter-related - questions, as we give everyone a little sneak peek into what we hope to bring about once everyone reaches content parity at 1.4.1.
Let's start out with the bigger picture here, which we hope will be huge news for everyone and something to very much look forward to.
Re-Logic & DR Studios intend to take our best shot at both Crossplay and Save Cross-Portability once everyone is at party on Terraria 1.4.1
​
That's right folks, we are ready to officially announce that we are going to make an
ATTEMPT
(please note the emphasis on the word attempt
) at not only crossplay, but also the ability for players on one platform to be able to take their saves with them when playing on another platform. Imagine a world where you can take your PC saves with you on vacation with you on your phone... or your mobile saves over to your buddy's house to play some splitscreen on their PlayStation. Imagine a world where we are able to connect all of the various branches of the Terraria Community together as one in order to enjoy the amazing multiplayer experience that Terraria has to offer. We happen to like how that world sounds, personally.
We are also very much looking forward to sharing our progress on this initiative once we get going in earnest post-1.4.1.
Now, it is important to note that this is NOT going to be an easy journey for us to take and we can NOT make any definitive promises that we will be fully successful. There are a ton of technological and logistical barriers to success here. However, where we can make this dream a reality, we will. That much we can say. We will be accepting all of your well-wishes and happy thoughts for our long days ahead.
​
So that leads us into our other question, which is very much intertwined with the notion of technical feasibility of Crossplay & Cross-Portability: What about those remaining Console Exclusives (Mobile has already had them all redacted)?
After much internal debate, and under our consistent guidance from the One Terraria initiative, we have made the tough call to remove all remaining Console Exclusives from Terraria with the Journey's End update. We must make this move at this time because of two factors:

Though we may be able to support different features/UI on each platform, they must have the same content to be compatible with each other.

We will not be adding all of the exclusives to PC or Mobile, as they are inconsistent with our vision of the game.
​
We know that this will not be well-received by many in the Terraria Community, and we can certainly empathize with those feelings. However, for the bigger plans to even have a chance to succeed, this is a necessary step that we must take at this time. Existing Exclusive items will all be removed from the game with 1.4, with possible compensatory replacements as appropriate. We will provide any details on that with the Console Journey's End Changelog when that comes around. We are happy to address any questions on either of these news items in this thread and we will attempt to do so as well on social media/Discord/etc. Hopefully, everyone can come together and see that this is a needed move for the bigger picture for all Terrarians.

XBOX & PLAYSTATION
Happy 2021 everyone! The DR team has been hard at work polishing the Console Terraria experience, with a focus on optimization, the Multiplayer experience, as well as Control/UI improvements. Lots of great progress is being made every day. Speaking of that last category, anyone want to see a sneak peak of the latest addition to the Terraria Console controls arsenal?
At long last, the often-requested addition of Keyboard and Mouse controls to Console Terraria is alive and kicking! We are expecting to roll this out with the upcoming Journey's End/1.4 update, so hopefully this gives everyone just one more thing to look forward to when that happy day arrives! (no we do not have a date yet, sorry)
Also keep in mind that this is an ALPHA version of Terraria 1.4 on Console. Lots of things - such as the final UI, etc - are still subject to change. So don't get too hung up on anything - the key here is to show off this new way to play on Consoles!
Hopefully, that kicks your new year off the right way, Console Terrarians - and we are very much looking forward to sharing more on our progress as Journey's End draws closer and closer for you each and every day.

NINTENDO SWITCH
See above - we are doing our very best to work on all three platforms at the same time, in order to minimize any delay in the launch between XB/PS and Nintendo Switch. That is not to say they will necessarily be simultaneous, but working in parallel means we can cut way down on any possible delays.
Back to Table of Contents

MOBILE - DR STUDIOS
​
Hello everyone!
As with last month, things are mostly quiet on the Terraria Mobile front as the DR team is focused elsewhere for the time being. That said, we did recently add a little goodie that some folks might find interesting.
That's right - alongside the already-existing Gamepad support, we we will be adding Keyboard and Mouse support for Terraria Mobile in a future update! We have a few other tidbits that we know we need to get in alongside this (fancy water, for example) new feature, so we will be looking into that as well. Then, of course, there is the subject of 1.4.1 - but, as we have said before, that will be a topic for a later time, after Console 1.4 is out for everyone. So... hopefully this piques your interest and gets you excited for the road ahead on Mobile!
Not much else to share from Mobile-land this month - as most of the progress is on the Console side. We do hope you thoroughly enjoy what Mobile Terraria has to offer over the Holidays - no better time to start a new playthrough with family and friends!
It truly remains an honor to be able to work on Terraria - on behalf of our entire team, thank you for your support, patience, passion, and kind words. We are so very much looking forward to keeping that momentum rolling strong into 2021 - see you on the other side, Terrarians!
Back to Table of Contents

COMMUNITY
​
Greetings Terrarians!
Here's the latest and greatest happenings on the Community side of things. Thanks as always for being the most engaged and awesome gaming Community ever!
TERRARIA MERCHANDISE UPDATES
NEW PINS & PLUSH FROM SANSHEE
Sanshee just keeps putting out amazing products, don't they?! The latest in the Biome Pin series is here, and this one might be our favorite yet. Join Truffle on a stroll through the mushroom biome on the hunt for the elusive Truffle Worm... and did we mention that it glows in the dark?
Not to be outdone are the duo of Baby Eater offerings - a cute pin coupled with the first new Terraria plush offering in quite a while. Who doesn't want to have that Baby Eater plush hanger dangling from their favorite bag on the way to wherever life may take you? Click the banner above to check out these latest offerings from Sanshee as well as the entire Sanshee Terraria collection - definitely a place you will want to keep a close eye on in the weeks ahead!

Behind the Scenes of Journey's End
Two
weeks ago, we hosted a
Community Q&A
dedicated to asking the Programmers and Artists of Re-Logic about what went into making Journey's End and Terraria as a whole. Many members of the community asked the questions held in their hearts about what it was like to develop Journey's End and the Programmers and Artists have spoken!

If there is anything you've always wanted to know about behind the scenes of Terraria one of our lovely members of the development team may have answered your question for you. Below are links to each Programmer and Artist where they have answered questions:
Jimmarn
(Artist)
Grox the Great
(Programmer)
Yoraiz0r
(Programmer)
Leinfors
(Programmer)

FEBRUARY - NEW THINGS THIS WAY COME!
We are expecting to have at least a few new products to reveal in the Terraria merchandise world during the month of February - including some categories where we have never had anything to offer fans before. So, if you have any interest in keeping track of the latest and greatest, you will want to keep a close eye on our social media channels as well as right here on TCF. We are pretty excited about what is coming soon...

COMING SOON - TERRARIA MERCH HUB
As we continue to expand our network of amazing Terraria merch partners, the need for a "one place to see it all" location continues to increase. We are working behind the scenes as we speak on just that - one place where Terraria fans will be able to browse all Terraria merch in one place, kept up-to-date as time goes on. We will share some sneak peeks into this as it progresses. Stay tuned!

TERRARIA ULTIMATE PARKOUR CHALLENGE RESULTS!
​
Let us give a big round of applause to
Afroman
who has been crowned the winner of the
2020 Ultimate Parkour Challenge
! Shout out to Bambino for getting 2nd place and Shuwu for getting 3rd place. One of our goals for 2021 is to have a series of awesome events offering not only glory but trophies and other cool prizes. Stay tuned to the community for more details on PvP tournaments, parkour challenges, building events, and so much more. Who knows, we might just offer a legendary championship belt to the winner of our biggest events each year.
Full details on major events will be located at
Join the Terraria Discord Server!

TERRARIA: FOR THE WORTHY CHALLENGE CHAMPIONS!
We are constantly witnessing incredible Terraria achievements performed by the community. However, defeating Moon Lord in a For The Worthy run while using Hardcore and Master Mode settings is on a whole other level. The first reported Moon Lord victory, under these settings, was by Mr.Sephy on August 15. Then for two months we did not hear of anyone in the community going the distance. On October 24 we made an announcement and set a challenge that we were looking to find the next God-like Terrarian to defeat the Moon Lord under these settings live on Twitch! We are pleased to announce that the first Terrarian to complete this challenge after the announcement was ArcheREE (
ArcheREE's Twitch Channel
) and we wanted to give a massive shout out to him for being the first to be able to go the distance. Furthermore, we have to give shout outs to Mr.Sephy and Badger who also were able to complete this challenge live on Twitch after the challenge was set. Please let us know whenever anyone completes this epic challenge because this is among the toughest gaming challenges around.

Until next time, Terrarians - we hope you have an amazing month, and we look forward to bringing you the latest and greatest next time!
Back to Table of Contents
​
Last edited: