Steam or GOG

Steam
Single Player/Multiplayer

Single
Operating System

Windows 10
Terraria Version

1.4.4.9
Controls Used

Controller (please specify type)
The Flying Dragon swords projectile is firing at a downward angle when trying to aim true left or true right. It is not supposed to be affected by gravity drop and none of my other projectile weapons like Terra Blade or Megashark that are supposed to fire in a straight line behave in this way.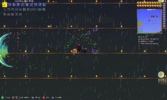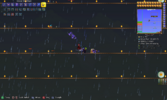 With all of these weapons I am aiming straight to the left and only the Flying Dragon projectile doesn't travel straight left.
I am playing on the latest steam version on pc windows 10 home vanilla with no mods.
I am playing with a playstation 4 dual shock controller plugged in to the usb.
When I use the mouse the cursor fires at the mouse correctly. When I use the controller and fire true left or right with the manual target or smart cursor both it always fires at this downward angle. This is the only weapon that behaves like this so far as i have noticed every other weapon that fires projectiles unaffected by gravity behave as expected and when firing directly left or right fire in a straight line with no drop. Flails projectile swords magic weapons etc.
If I lock on with the weapon it does fire at the target correctly as well. If I am running along the ground however trying to fire projectiles at expected enemies before I get into lock on range it just fires uselessly into the ground under them unless I manually aim upwards or can get a lock on.