Consigliere
Staff member
Re-Logic
Administrator
Greetings Terrarians!
Happy Holidays everyone! It certainly is getting quite chilly where we are, as Winter settles in for the next several months. We are getting ready to enjoy whatever time with friends and family we can get in the insanity that is the Holiday Season in 2020... and we certainly hope that you all get an opportunity to do the same. That said, we wouldn't want to close out the year without giving you one last look at the goings-on in the world of Terraria development in 2020. So, settle in and let's unwrap December's news...

STATE OF THE GAME - TABLE OF CONTENTS
PC NEWS
TMODLOADER NEWS
CONSOLE/SWITCH NEWS
MOBILE NEWS
COMMUNITY NEWS

PC - RE-LOGIC
STEAM WORKSHOP SUPPORT FOR TEXTURE PACKS AND WORLD SHARING STILL IN DEVELOPMENT
First off, we would like to thank everyone in the Terraria Community for what has been the biggest year for Terraria yet. Your passion for our game is unmatched, and that support - along with seeing your limitless creativity and dedication to Terraria in action every day - is beyond appreciated. It makes it a pleasure to come to work each and every day... even on those days when we are tackling tough and complicated issues, we know that the time and effort is worth it and your backing is what keep us going. 2021 stands to be a quite interesting year indeed, as our team looks to take on whatever the future holds for our second project - nothing to share on that front just yet (as you see below, we are still tying off loose ends with Terraria... we cannot help ourselves
) but when the time is right, we look forward to doing so. Please have an amazing Holiday season and stay safe and warm out there - we cannot wait to take the journey into our future with each and every one of you. Thank you!
The team has made a ton of progress over the last few weeks towards our implementation of Steam Workshop for Terraria. We are at the point where we are able to actively test and refine these features internally and with our testing team. To be clear, there is a lot of back-and-forth iteration left to be done here (based on where we are now), but the team is making huge strides every day and really enjoying diving in and trying different things to make this as cool as it can be. In the meantime, here is a sneak peek at the Workshop page - which is very much a work in progress!
Again, we would encourage everyone to check out what is already on-offer in regards to Texture Packs and Worlds here on TCF - both for ideas and to see what might hopefully be available on Workshop in the near future!
TERRARIA TEXTURE PACKS ON TCF
TERRARIA WORLDS ON TCF
As a reminder, Steam Workshop for the core Terraria game
will not support Terraria Mods
- as for all things Terraria Mods, that remains firmly in the realm of tModLoader and the team behind that!

SOUNDTRACK UPDATES
There is still time to get your preorders in for the Terraria Soundtrack Collector's Vinyl, which drops in the first part of 2021 - don't miss your chance!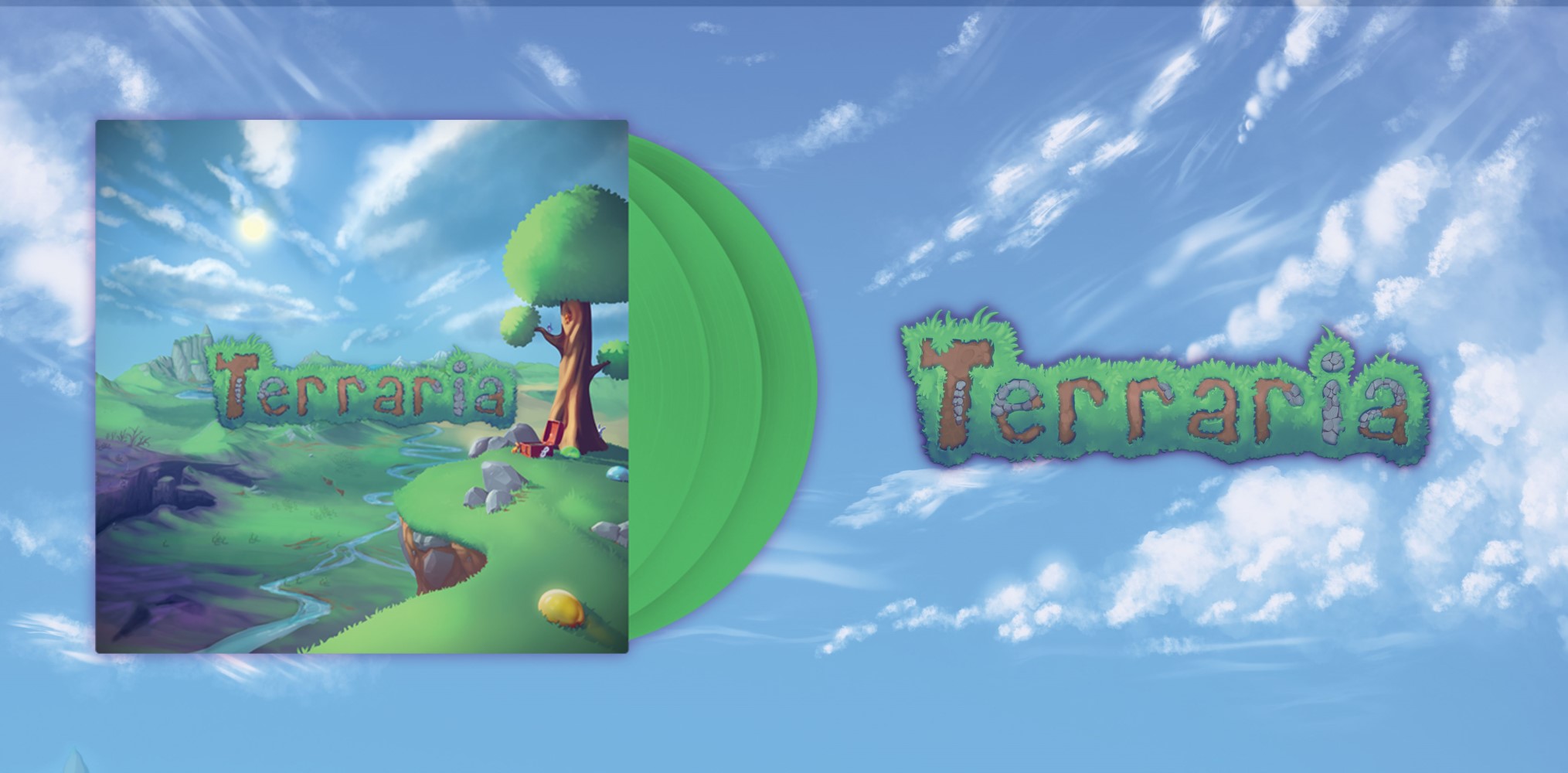 TERRARIA OFFICIAL SOUNDTRACK COLLECTOR'S VINYL
Sixty tracks, clocking in at over 110 minutes of epic music across three full-length vinyl green discs - wrapped up in a package full of custom Terraria artwork designed specifically for this release by Re-Logic's own artists, the Terraria Official Soundtrack vinyl collection is a must have, if you ask us. We have had the distinct pleasure of working with the amazing folks over at Laced Records on this for some time now, and we could not be more excited to be able to finally reveal it to all of you.
PREORDER YOUR COPY NOW HERE!

Be sure that you are up-to-date with the latest and greatest on this front via the Hotfix Changelog... and keep your bug reports coming via the handy bug report button below!
Terraria: Journey's End - Hotfix Changelog

Thanks again, Terrarians - we are as always blown away by your support!
Back to Table of Contents

TMODLOADER NEWS - TML TEAM
The tModLoader Team remains hard at work on getting TML up to the 1.4 era. We have just put out a quick fix for some sound issues that arose with the release of the latest fixes for vanilla Terraria.
Community Contributions are most welcome! If you would like to help out or learn more, check out the tModLoader Discord >
https://tmodloader.net/discord
Hopefully, it will not be too much longer!

TMODLOADER ISSUES/BUGS
The Re-Logic team does not directly develop TML, so bugs with TML are best reported via the links below.
tModLoader - Play Terraria with Mods!
https://tmodloader.net/discord
Back to Table of Contents

PlayStation 4, XBOX ONE, Nintendo Switch - DR STUDIOS
XBOX & PLAYSTATION
Another month of focused Console development down, and with it, loads of great progress towards the eventual release of Journey's End for Consoles! As we mentioned in November, the team's goal was to reach the Alpha stage of development for Consoles by the close of 2020.
We are quite pleased to report that this is mission accomplished, and Terraria: Journey's End for Consoles has reached the Alpha stage of development. From here, we will take this feature-complete build and dive headlong into polish, optimizations, iterations/tweaking, and the ever-popular testing & bugfixing as we push towards a Beta build and an eventual launch as soon as possible in 2021.
We hope the image above will help to keep you satisfied through the break - we are looking forward to sharing our journey along the final push to getting this into your hands in the States of the Game to come. Happy Holidays everyone!

NINTENDO SWITCH
See above - we are doing our very best to work on all three platforms at the same time, in order to minimize any delay in the launch between XB/PS and Nintendo Switch. That is not to say they will necessarily be simultaneous, but working in parallel means we can cut way down on any possible delays.
Back to Table of Contents

MOBILE - DR STUDIOS
​
Hello everyone!
With the second hotfix for Mobile Journey's End out of the way, we are continuing to document any remaining issues for future fix waves. To be clear, however, we get the sense that mobile is in a good place right now, and thus our focus remains on the Console front for the time being. Rest assured, however, that we are documenting and exploring/reproducing/testing any reports that come our way... so do not let up on making any issues that you encounter known via the link below!
Not much else to share from Mobile-land this month - as most of the progress is on the Console side. We do hope you thoroughly enjoy what Mobile Terraria has to offer over the Holidays - no better time to start a new playthrough with family and friends!
It truly remains an honor to be able to work on Terraria - on behalf of our entire team, thank you for your support, patience, passion, and kind words. We are so very much looking forward to keeping that momentum rolling strong into 2021 - see you on the other side, Terrarians!
Back to Table of Contents

COMMUNITY
​
Greetings Terrarians!
Here's the latest and greatest happenings on the Community side of things. Thanks as always for being the most engaged and awesome gaming Community ever!
TERRARIA MERCHANDISE UPDATES
ANIMEGAMI UPDATE - FINAL 3D RENDER
Our fantastic partners over at Animegami Studios are back with an update on the first installment in the Terraria Biome Series of high-end collectible displays. It has been quite a while since we last checked in on this ambitious project, so if you need a refresher, check out the initial announcement here >
Re-Logic Teams with Animegami Studios for the Terraria Biome Series Resin Statues!
Well, lots of back and forth and iterations have taken place since then, and we are beyond pleased to announce that we have arrived at the final 3D render stage - which means that actual production of these amazing pieces can begin (starting with prototypes so that we can work out any final issues between images and physical product). Want to see more? Of course you do!
Pretty darned sweet stuff if you ask us! We cannot wait to have one of these amazing pieces on our desks/shelves when they come out. As you saw, preorders for these collector's items will open sometime in Q2 2021. We will be back with more information then - likely including some in-person pictures of the actual physical product - so stay tuned and stay hyped for this amazing piece!

HOLIDAY SHOPPING GUIDE
There is still time to pick up some last-minute goodies for the Terrarian in your life (or maybe even yourself) - our Holiday Guide is continuously updated so that you have the latest and greatest at your fingertips at all times!

TERRARIA ULTIMATE PARKOUR CHALLENGE BEGINS!
​
Greetings Terrarians,
The time has finally come to test your Terraria skills against the 2020 Terraria Ultimate Parkour Challenge! The winner of this event will receive a trophy marking them as the 2020 Ultimate Parkour Champion. In addition, other prizes will be provided to those who place in the top 3. The UPC is now live and the event will run from December 18, 2020 until December 31, 2020 at 12:00PM PST.
Your 1st goal with the UPC event should be to complete the course. The course is challenging, but if you take your time it should not be too challenging to complete the course. If you truly believe you have what it takes to be among the top 3 fastest times, you have the option to submit a recording of your course run. Everyone who submits a course run that passes verification will be included in our rankings for the year. Within the official Terraria Discord server (
Join the Terraria Discord Server!
) we have created the #parkour channel where the community will be able to upload video recordings of their course runs. Every video submission should also include your Terraria Forums name. Adding a timer to the video as an overlay should be the only changes made to the video file. The timer should start the moment the player begins the course and ends the moment the player ends the course.
Rules
​
1. A new Journey Mode character must be used. Your character name, in game, must be the same as your Discord name. It is optional to include your #0000 Discord tag.
2. You must clear all items from your inventory before you begin the course, and you can only use items provided in chests. The only item in the starting chest is a Cell Phone and all other items, including wings, rope, and grappling hook are not permitted.
3. No godmode is allowed.
4. Enemy spawn rate should be set at 0.
5. Enemy difficulty should be at Journey.
7. No glitches are allowed (minor or major).
8. No editing (breaking, placing, or hammering) blocks.
9. A speedrun timer is required. (This can be overlayed on the recording or on screen during the speedrun).
10. No editing the video footage outside of adding a timer. This especially includes cutting and pasting footage from different attempts to give the appearance of a faster course completion time.
11. Pay attention to the posted signs for hints and important rules.
12. We included the .wld file for the course. We suggest using the .wld file, but we also included server details as well. If you use the .wld file, then you are not permitted to make any changes to the file.
13. Your timer starts when you step on the pressure plate at the beginning of the course, and the timer ends when you step on the last pressure plate. For your entry to be valid, you must show that you have complied with all rules above.
14. No event entries will be accepted after 12:00PM PST on December 31, 2020.
Winners will be announced January 3, 2021 around 12PM PST
Terraria Ultimate Parkour Challenge Server details:
srv1.terraria-discord.com
port: 7788
password: jump
Ultimate Parkour Challenge wld file (recommended)
We would also like to give a massive shout out to those members of the Terraria Community Team who contributed towards the Terraria Ultimate Parkour Challenge:
Llama#7093, Tooth53less#1189, Blend#0001 The_Fool#7039, TheBiggestPog#7338, Vedvod#1124 V-Pariah#8913, mikachelya#9840, MustaMine [The Tree Eater]#1546, and MadMan2021#2021.
Back to Table of Contents
​
Last edited: