Consigliere
Staff member
Re-Logic
Administrator
Good evening Members of TCF!
Happy one month anniversary! What an exciting month it has been - with over 10,000 members and nearing 100,000 posts, it's clear that TCF has started off strongly!
We have made a handful of enhancements and upgrades to TCF this afternoon - thank you all once again for your patience during the upgrade process. As this is more comprehensive than the usual Changelog, I am sharing this via a standalone post. If you have questions, please share them here or via a PM/Profile post to me.
First of all, we have updated to the latest Xenforo, which will enhance stability and fix some bugs. In addition, we have added a handful of behind-the-scenes features that will enhance the TCF experience in ways that will be visible - though some will not be readily visible. This includes some additional SpamBot protection layers and staff tools.
While we were at it, we took the time to add some new member functionality, which is outlined below.
Upgrades to Conversation System
We have made some subtle, yet handy enhancements to the PM/Conversation system. These represent a few things requested by the community coupled with some additional functionality. A brief summary:
You can now see which members are actively participating in a conversation - and when they last viewed the conversation. Members that have left the conversation will have their names crossed out along with a big X next to their name.
Conversation Starters have the option to Kick other members from Conversations. From time to time, we have heard this as a need from the community. Please note that if this ability starts to be abused, it will be removed from the individuals doing so - along with possible additional account action. If it is abused in a widespread manner, it will be limited to Forum Staff completely.
TCF now supports "Likes" in Conversations. These work just like normal likes, however, they do not count towards a user's like count.

TCF Members can now create "Conversation Participant Groups" - akin to group distribution lists for email - for their Conversations. So, if you work in a Team or have a circle of friends and you wish to start a conversation with all of them at once with a few clicks, now you can!

To start, just go to your account settings page and select "Participant Groups" from the sidebar menu.
Type in a group name and then the members you wish to assign to that group.
Click Add Group...and your group is created!
To use the group in a PM/Conversation, simply select it from the pulldown on the right side of the Participants window. (Yes, we know the formatting is too dark)
​
Members now have a variety of ways to manage Conversations - to start, choose "Show All" on your inbox list to display all of your Conversations to-date.
From here, you will notice checkboxes listed next to each Conversation. Select whichever Conversations you want to action to generate the pulldown shown below. This allows you to do a number of things - including Sticking or Starring certain chats in your history for later reference.
Upgrades to Member Abilities
We have installed a plugin that allows for a greater range of member abilities. We are not enabling everything at this time, but we wanted to point out a few things that we hope people will enjoy.
Thread Creators can now edit their own thread Titles & Prefixes if they do so within the first hour of making their thread.
Member name changes are now logged to the account. This is similar to Steam, where members will be able to see account name history as names are changed.
New Name Change system is now in place

If you desire a change in your account name, you may do so via the User Name Change option located on the sidebar in your Account page.
You will be required to enter your current password, your desired new account name, and an optional reason why you desire the name change.
Currently and Previously used names will be automatically blocked by the system.
All name change requests will be reviewed and approved/denied by TCF Staff. If a request is denied, you will receive a message saying why.
Members are limited to a maximum of ten (10) name change requests at the present time. Denied requests do not count.
Members with a successful name change will have their title automatically changed to "Previously <UserName>" for 7 days in order to allow the community to adjust to your user name change. This is not negotiable, except in extreme circumstances.
If this system is abused in any way, this ability will be removed from those abusing it.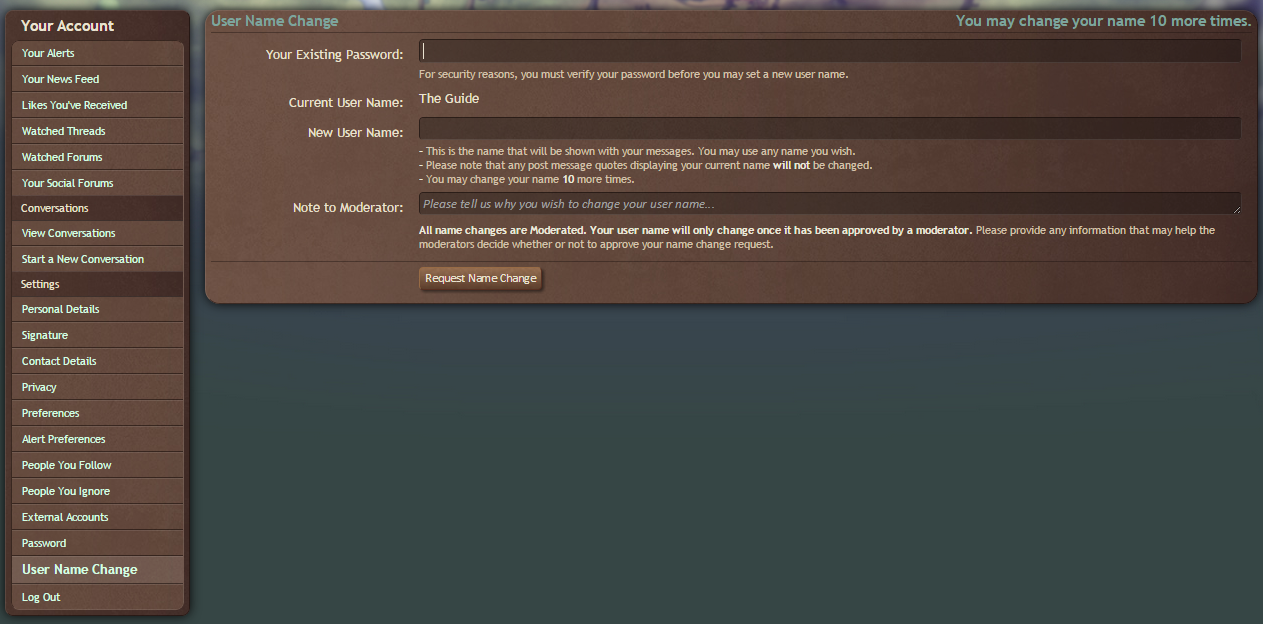 IMPORTANT NOTE: Name changes are not a "revolving door". That is to say that name changes are permanent and you cannot swap back and forth between names on the fly. So, for example, if you were to ask for a name change and then desire later on to revert back, that would require an additional request and use up a total of 2 changes. This is a name change system, not a name reservation system.
In case you haven't noticed, we have added a handful of new Guide/Dryad expressions thanks to the efforts of
@SzGamer227
,
@Jestex
, and
@Zoomo
. Check them out if you get a chance! There is a thread for further suggestions in regards to emotes in the Feedback section.





​
We hope the community enjoys these new additions - both the visible and invisible - that should help enhance your TCF experience. Of course, with any changes, bugs are possible. Please report those
HERE
. In addition, keep your invaluable feedback coming into our
Feedback Section
so that we can continue to evolve the community in a manner that meets the needs of all of you.
Thanks for your support of Terraria and of TCF - its been an awesome first month, and we are looking forward to many, many more!
~The ReLogic Team & Staff of TCF
Last edited: