Consigliere
Staff member
Re-Logic
Administrator
Greetings Terrarians!
Things just keep getting hotter outside... and inside the development work and community for Terraria! This month's State of the Game is packed with cool tidbits for everyone, as we wind through the Summer months on the way to the next releases for each platform . All that said, let's dive into the latest and greatest across the board!

STATE OF THE GAME - TABLE OF CONTENTS
PC NEWS
TMODLOADER NEWS
CONSOLE/SWITCH NEWS
MOBILE NEWS
COMMUNITY NEWS

PC - RE-LOGIC
We hope everyone is finding some way to stay cool as things really start to heat up outside! The Terraria PC team has remained hard at work on additional fixes as well as a handful of cool things that are going into the upcoming 1.4.1 release! We still have a good amount of work to do there, but we are definitely making strong progress.
We know that one thing everyone will be interested to see is the Vanity Contest Armors, right? Well, here is a quick sneak peek at how these have come out so far. You will have to wait to see further details such as animations, tooltips, how to find these, etc... but we hope that you enjoy what you are seeing so far. We feel like these came out really well and are true to the artists' vision. Coming your way with 1.4.1!

SOUNDTRACK UPDATES
TERRARIA: OTHERWORLD SOUNDTRACK
The Terraria: Otherworld Soundtrack is now available on iTunes, Google Play, etc. as well as streaming services such as Spotify - we hope that you are continuing to enjoy these epic tunes! If you haven't checked it out on Steam as well, we have upgraded all of the MP3's to 320 kb/s, added a lossless high quality WAV branch, and there is an additional epic track from award-winning composer James Hannigan that has been added since it was released!
SPOTIFY
For now, we are going to toss the Spotify link above for your listening pleasure!
----
TERRARIA SOUNDTRACK: VOLUME 4
As for the additional music tracks from Journey's End, we have these more or less ready to go - and we are planning on the same 320 kb/s MP3/HQ WAV approach that we have on Otherworld now when this rolls out. Our current plan is to release this soundtrack update alongside the 1.4.1 update!

Be sure that you are up-to-date with the latest and greatest on this front via the Hotfix Changelog... and keep your bug reports coming via the handy bug report button below!
Terraria: Journey's End - Hotfix Changelog

What's next? Well, we are trying to be sure that we tie off all of the loose ends that we want to with 1.4.1... so hang with us a bit longer as we do just that. After that? Well, we shall see...
Thanks again, Terrarians - we are as always blown away by your support!
Back to Table of Contents

TMODLOADER NEWS - TML TEAM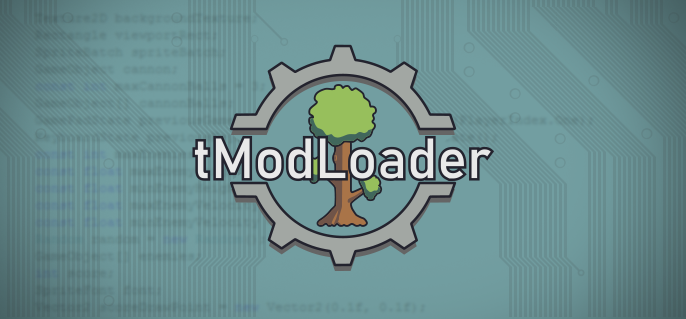 The tModLoader team is working on updating tModLoader to the latest Terraria content. We are happy that several modders in the community have been contributing code and ideas as we work to rework tModLoader to be better than ever, and invite interested modders to voice their opinions regarding upcoming changes to the tModLoader API on our discord server. We're extremely happy to see tModLoader consistently in the top 100 Steam games by player count since tModLoader released on Steam. This has really encouraged the tModLoader team. We've seen over a million Terraria users try tModLoader on Steam since the release a couple months ago. Even though tModLoader is still in the process of updating to Jouneys End content, the modding scene is as active as ever and we encourage anyone interested in mods to give it a try.

TMODLOADER ISSUES/BUGS
The Re-Logic team does not directly develop TML, so bugs with TML are best reported via the links below.
tModLoader - Play Terraria with Mods!
https://tmodloader.net/discord
Back to Table of Contents

PlayStation 4, XBOX ONE, Nintendo Switch - PIPEWORKS
​
Additional Console Fixes and Quality of Life Patch Coming Soon!
The Quality of Life Update that we mentioned last month has passed internal QA checks and other approval steps. We expect to be able to submit this up to Microsoft/Sony very soon and roll it out to you in the very near future.

NINTENDO SWITCH
​
So, last month, we shared the handful of bug fixes that are coming for Terraria on Nintendo Switch, along with a few news updates on items such as Split Screen, etc. Well, for July, we have some late-breaking developments to share that we suspect will make folks quite pleased.
As we had mentioned for some time, once 1.3.5 was complete and hotfixed, Split Screen would have another chance to make it across the finish line. Over the last several weeks, the team has made a concerted effort to get Split Screen working at a level that is playable and fun. A few factors and a lot of hard work and creativity went into this. The short version is that the team needed to find a way to execute on Split Screen that had acceptable performance levels. The initial attempts here focused around zoom levels, which created a very playable version, but with a zoom level that really did not feel the best (you couldn't see the Moon Lord's third eye, for example).
Over the last week or so, the team has had a few breakthroughs that have allowed the zoom level to come up substantially without causing an overmuch drop in performance vs the previous zoomed-in version. This version is undergoing internal and QA review as we speak, but the team is feeling pretty good that Split Screen will - at long last - make it into your hands with this next update. Hopefully with the zoomed out version that is being tested now!
We will leave you with this little sneak peak of Split Screen running on Switch to whet your appetite. Cross your fingers that all goes well with testing and we can get this out to you soon!
Back to Table of Contents

MOBILE - DR STUDIOS
​
Hello everyone!
Did you spot all of the many spoilers in last month's State of the Game Teaser Video? There were quite a few indeed!
The team has continued to make big strides in both implementation and testing of the metric tons of new content and features as well as all of the new gameplay systems and UI elements that are needed to execute everything from 1.3.1 - 1.4.0.5. As we will continue to make clear, we still have a lot of work ahead of us in the realm of polish and iterations and testing... but we are feeling great about the state of things right now. That said, let's take a look at the latest and greatest, shall we?
Remember that these are early development builds, so UI elements are subject to change and you very likely will see bugs (especially visual bugs or performance things) in any of these early screens or short videos. Don't worry, we will get all of those ironed out before the end.
For certain, the 1.4 content steals the show a lot of the time, but we would be remiss to not take a few moments to share how we are currently looking to implement 1.3.X content - and one of the big ticket items on that front is everyone's favorite wiring tool, the Grand Design! Here you can see our current version of this, with tappable icons to toggle various functions on/off (the other features such as ruler settings, wire brightness, and even Torch God's Favor are available as toggles in the inventory screen)
"How about some 1.4 goodies?", we hear you saying. Sure, sure... how about a quick preview of Pylons in action, with a dash of thundersnow for good measure?​
We know you all want more information on timing - still nothing concrete there, but we hope that you can see that real progress is being made and it is coming together nicely. Final launch timing will again come down to iterations between DR Studios and Re-Logic on UI design elements (and there are a lot of them!) as well as the massive ton of testing that will be needed on both sides... which is well underway.
We hope this little sneak peak has kept you satiated for now... more to come along our own path to Journey's End!
Back to Table of Contents

COMMUNITY
The Celestial Pillars are Invading
Stay tuned because next month we have a big announcement on an exciting new community feature.

United Servers of Discord
​
The Terraria community has now established alliances with 5 of the top 20 servers on Discord including r/Overwatch, Anime Soul, r/LeagueOfLegends, Animal Crossing: New Horizons, and Roblox. The goal of these alliances is to bring top communities together, help each other reach our potential, and establish entertaining events that are mutually enjoyable. Our alliance network continues to expand with exciting potential and we look forward to announcing some truly innovative events in the future.
We currently have Animal Crossing and Roblox art events accepting votes! You can vote on your favorite event submissions here:

Roblox:
Terraria x Roblox Art Event Voting Gauntlet
Animal Crossing
:
Terraria x Animal Crossing: New Horizons Art Event Voting Gauntlet

Shout Out to Our Community Teams
​
We wanted to give a very special shout out to some incredible members of the Terraria family who go up and beyond to help make the Terraria community such a wonderful place.
Terraria Community Forums: Tunnel King, Aurora3500, Charmander27, Criddle, Darthmorf, Doylee, ExoticCharm, Kazzymodus, Kelp, Matsu, Nike Leon, and Unit One.
Terraria Discord Server: dunkasaur#0001, demize#0021, Ourself#0001, DisturbedTK#0001, myungceline#1111, Squid#0360, MadMan2021#2021, XeeDren#3850, Nobody#4333, Avery#6969, Spooklies#0199, Coleyohley#3145, Cytherean#3865, Davyous#0222, Blanc#6336, Jimbo#0007, Ajax#3930, Starless#7416, Pemoinop#3249, Nurtemms#9152, Saply#7011, Honeyko#0001, Lucina#7777, FindingEDEN#0011, Midnaait#3169, 94067#0123, Olivecattyfo#3333, Hifume#5050, roflmoaqwerty#0420, Ruzike#6578, Alucarian#7559, and Shadowflame#0017
r/terraria: DisturbedTK, SirGrodus, Dunkasaur, dyholm796, notdemize, Ourselfian, Helljumperz64, edcellwarrior, 94067, 7ejk, Brawhalla_, BrkIt, GoldenTGraham, gamefreac, and Aracite
Terraria Community Team: darthmorf#5524, demize#0021, DisturbedTK#0001, MadMan2021#2021, Ourself#0001, Srsonic1#1113, TheTGU#6529, InstaFiz#0417, Magefire#9668, Squid#0360, Vamp#2201, Uncle Danny#7694, and Wing/¯3#6664,
Thank you all for everything that you do for the community. We appreciate your worthwhile contributions and presence in our lives. The Terraria community would not be as enjoyable without you. Everyone please join us in giving these remarkable Terrarians a round of applause.
Last edited: