Hello my friends. I am excited to announce the release of HERO's Mod. I'm excited to have this ported to Tmod. This mod is a tools mod. It is a pick and choose server mod that allows you to decide how you want to run your world. You can turn on and off any features. You can allow different groups to use some but not all features. This mod has full group management with a GUI. There are over 25 tools and many more in development. These tools aim to allow you to better manage a server without having to use slash commands in Terraria's chat. There is a full interface in game that you can use to preform actions. This mod also works for single player.
Tools:
An inventory editor with categories that are also searchable.
Infinite reach. This allows you to reach anywhere on the map with your cursor. You can dig and build a lot easier with this.
Disable and enable enemy spawns.
Delete items on the ground. This allows you to clean up easily.
Time controls. (This menu expands when clicked) Adjust the time of day.
Pause time.
Turn rain on and off.
Unlimited Enchanted Sundial.
Waypoints. Set teleporter points that all players can see and use if you allow them too.
Spawn NPCs. This allows you to spawn bosses, town, and friendly NPCs. You can move your town NPCs with this tool as well. Just click and they will be respawned. This tool is searchable.
Buffs. Give your player buffs for whatever amount of time you would like.
Godmode. This prevents you from dying.
Reforge. You can drop your items here and you will be able to reforge them to whatever prefix you would like.
Regions. This allows you to set protected regions that players can or cannot edit. You can assign groups of players or you can assign individuals.
Tile modification. This allows you to see who last modified a tile. If you notice someone griefed your server you can find out who did it.
Players online. See players that are active and also see registered players.
Snoop players inventories. If you want to see if someone is cheating the best way to know is to take a look at their items. This allows full snooping of inventories.
Ban players with a click of your mouse.
Kick players.
Teleport to players. You just click their name and then click teleport to be taken to the player.
Set your worlds spawn point.
Reveal the map.
Ban explosives.
Prevent gravestones.
A full group management window that allows you to set who can use all of these tools.
A built in log in and log out system that allows users to register different usernames and log into different accounts right in game.
Freeze players when they join the server until they log in.
A bunch of other stuff.
Here are few in game menus for the tools: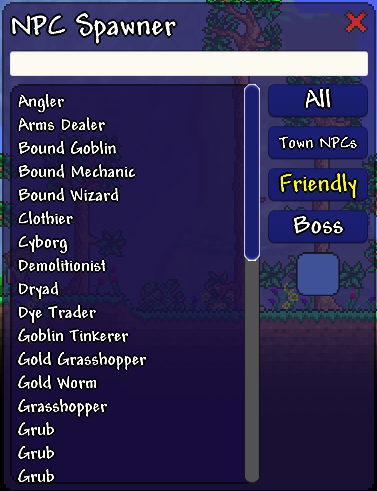 Credits
HERO: 2 years managing this project. I really hope you like it. I've spent many nights testing revision after revision of the mod for bugs. I worked really hard on the design of the mod and put a lot of thought into which tools would be best. Funding, design, bugtesting, and project management.
Matthew Thompson
: The main architect who built the mod from the ground up. Hundreds of hours went into making the mod the best creative mode mod in Terraria. He worked on the project prior to 1.3. He has moved on to developing his own games and the project is now open source.
​
jopojelly
: I worked with the very talented modder
jopojelly
to port this mod to tMod. We are currently updating even more features that did not survive the port. He has done amazing work porting the mod over. Porting, bugtesting, and development of new tools.
​
Legal
By downloading this mod you agree that we are not responsible for any damages or problems that may be caused by the mod, tModLoader, or any add-ons for any reason whatsoever.
​
Direct download HERO's Mod File (Always up to date)

Alternate download link (Github)
Terraria 1.3.1 Version (Mod version v0.2)
You can also download the mod from the mod browser in tModLoader.
You need tModLoader to use this mod. If you need help installing tModLoader go HERE.
​
Thank you
Thank you to the whole tModLoader team who has put together such an amazing project. They clearly have a love for this game and a passion for modding. Thank you to Redigit and the whole dev team for making such a great game and continuing to update it with content even after 5 years. Thank you to the community for making it worth the time to make something like this. Without people to play the mods there would be no point in making them.
​
The future of this mod
I want this mod to go open source so that the community can build whatever tools they want into the UI using our UI kit and our group management. We are working on making it easier for modders to make add-ons that will hook right into the hotbar and let servers assign them to the group management. I would like more than anything to pass this massive time sink off to the community. I need sleep. - HERO
Last edited: