Consigliere
Staff member
Re-Logic
Administrator
Greetings Terrarians!
You know what they say... April showers bring Terraria news! Or something like that anyway. It is quite an exciting time in the world of Terraria right now, with all sorts of fantastic news happening as we speak - and with plenty more to come as the year moves on. Let's not waste any more time and instead spring right into the latest and greatest surrounding all things Terraria!

STATE OF THE GAME - TABLE OF CONTENTS
PC NEWS - RE-LOGIC
TMODLOADER NEWS - TML TEAM
CONSOLE NEWS - DR STUDIOS
MOBILE NEWS - DR STUDIOS
COMMUNITY NEWS

TERRARIA - LABOR OF LOVE UPDATE
The team has made a ton of progress on the Labor of Love update over the past month - and the finish line is in sight. Recently, we have been conducting a huge playthrough with the entire team alongside our trusty playtesters. What are we testing you ask? Well, it's a combination of all of the new stuff we added... and we are playing it on a brand new world seed that is unlike anything Terraria has seen before! What will await you in this new adventure? You will have to wait and see on that, I'm afraid. In the meantime, enjoy some Fart Kart...
Hey, quit crapping around! We have work to do!!
Want some more tidbits? Ok then fine...
So, we heard you all might like some Coral Furniture - something to really bring the beach home to your base. Feast your eyes on this!
Who doesn't love a good World Seed, right? And traps, everyone hates traps right? This one will totally scratch that itch for all you trap-haters out there.

STEAM WORKSHOP NEWS
The level of quality and quantity on the Terraria Steam Workshop keeps on growing and growing - with over 53,000 packs and worlds so far, you are missing out if you haven't taken the time to check out the Workshop yet. What are you waiting for?!
Click the banner above to check out the Terraria Workshop!

WHAT ELSE IS GOING ON?
Pretty much we are all-in on Labor of Love... though there are other things in the works to help us continue to prepare for our second project.

As always, keep your bug reports coming via the handy bug report button below!

Thanks again, Terrarians - we are as always blown away by your support!
Back to Table of Contents

​
Hello everyone!
We have some definite progress this month that you will want to check out - tML will be doing monthly previews starting in April... and an update on tML 1.4 timing. Want all of the details? Read on!
April has been a big month for tML and it's looking like May will be an even bigger month. Some major mods have started the port to tML 1.4, and they have provided valuable feedback in the process. We'll start May with a focus on a built-in mod porting tool, tModPorter (thanks to Chik3r and Tomat from the community!), which will automate small code changes which have to be made in thousands of places, reducing the amount of manual effort required from modders. We ask modders to keep an eye on tML development, come chat with us in the Discord, and start porting their mods to 1.4 to be ready for when tML 1.4 launches!
As always, you can keep track the current progress and such more in real time at
tModLoader/tModLoader
(But note that the completion percentage doesn't mean anything, because issues and PRs don't have weights.)
Developers who are willing to contribute may do so by doing PRs to the
tModLoader/tModLoader
branch. (See
tModLoader/tModLoader
)

TMODLOADER ISSUES/BUGS
The Re-Logic team does not directly develop TML, so bugs with TML are best reported via the links below.
tModLoader - Play Terraria with Mods!
https://tmodloader.net/discord
Back to Table of Contents

CONSOLES - PLAYSTATION/XBOX/SWITCH
Parity at last! Well at least for a little while...
That's right Console Terrarians, in case you missed it, the 1.4.1 - 1.4.3 updates went live for Xbox, PlayStation, and Nintendo Switch yesterday! So, at least until Labor of Love comes out, all Terrarians are at parity in terms of the core content of the game. Want to learn more about what all is included in this latest Terraria update? Click the banner below to head over to the official launch thread to get all of the juicy details!
Rest assured that once Labor of Love is out, the team at DR Studios will be hard at work to once again restore parity to the world of Terraria!

The team is feeling pretty good about console at this point, but we know a handful of bugs and issues are still wandering out there in the wild. We have most of these documented (again, the best way to make sure your issue is seen is to file a Bug Report in the TCF Bug Section by pressing the button below!)
Back to Table of Contents

Hello everyone!
Not to be outdone, Mobile Terrarians also received the 1.4.1 - 1.4.3 update yesterday! That's right, after yesterday's events, all actively-developed platforms of Terraria are on the same content version. This has only happened once for a VERY brief time (and to be fair, Labor of Love will break it again until we can catch back up), so this is certainly a momentous occasion. Of course, once Labor of Love is out, we will begin the work to get everyone back to parity as quickly as possible.
This update also comes with official support for Mouse and Keyboard on Mobile - in case you missed that last month.
Want to know all of the details? Click the banner below to head over to the launch thread to read all about it!
​
​
Thanks as always for the honor and trust you give us each month to work on Terraria - it is not a responsibility that we take lightly, and we look forward to bringing more amazing things to you all as we move forward.
Here's the latest and greatest happenings on the Community side of things. Thanks as always for being the most engaged and awesome gaming Community ever!

TERRARIA MERCHANDISE STORE HUB
​
The merchandise hub is where you can find all of the latest and greatest Terraria merchandise - and we are kicking off the new year with a handful of new offerings, including brand new plush! Check out the latest merch drops as well as some classics and pick up that epic Terraria gift for a friend (or yourself!).
Click the banner above to head to
Terraria.org/store
now!

TERRARIA MERCHANDISE UPDATES
NEW UNDERWORLD SHADOWBOX COMING SOON FROM ARTOVISION!
If you were lucky enough to stop by the Artovision PAX East booth over the past several days, you might have had the chance to see and pick up one of these amazing shadowboxes already. If you missed out, fear not - these will be available for sale online soon, alongside another concept art piece. This amazing artwork is our first "in game" shadowbox and depicts the iconic Underworld fight with the dreaded Wall of Flesh. We will have more information soon on availability, but we wanted this on your radar sooner rather than later!

OTHER COMMUNITY NEWS
TERRARIA ON R/PLACE
Massive shout out to the community for working together to get Terraria featured throughout the r/place canvas this year! Thousands of Terrarians worked together to show the world we are pixel pushing force not to be messed with! Check out some of the Terraria images that popped up throughout the event! You can also check out Chippy's coverage of all the exciting happenings.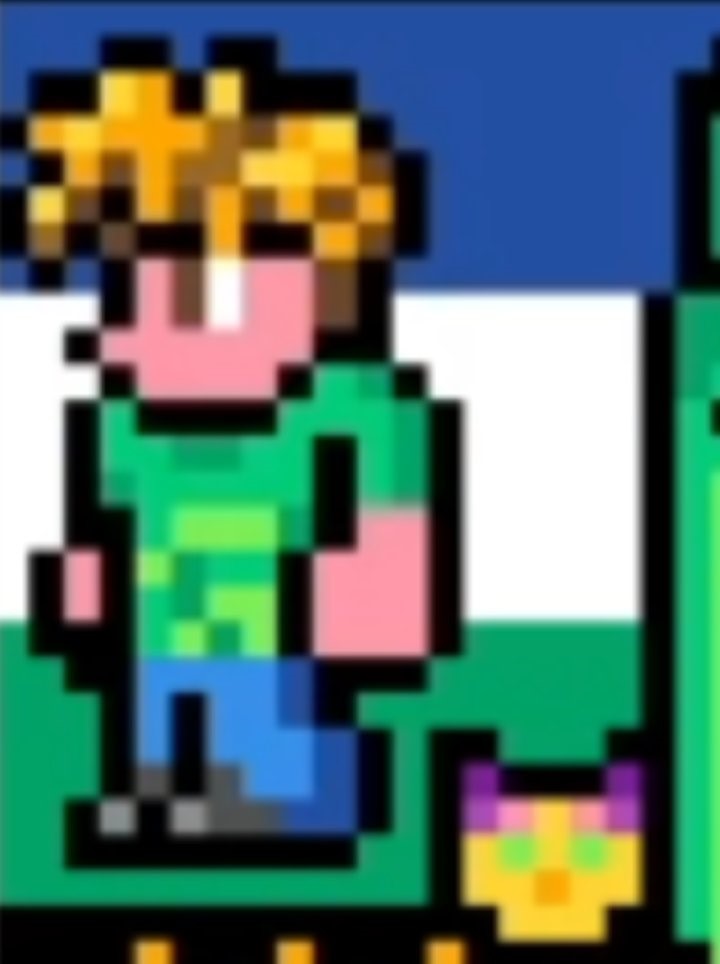 TERRARIA LEGO IDEAS CONCEPT UPDATE - HELP MAKE THIS HAPPEN!
​
Our Terraria Lego idea made by JaoGosma only needs 4k more supporters to be the #1 supported Lego idea! Please take a few seconds to make a free Lego idea account and vote to support our Terraria Lego. How awesome would it be to have an official Terraria Lego! Well you can be one of the few people who actually helped make it a reality by supporting via the link below (or just click the image):
TERRARIA LEGO IDEA

505 GAMES' BOOTH AT PAX EAST
Last week at Pax East 2022 Terraria made a cool cameo at the 505 Games Pax East booth in the form of cool merchandise and a karaoke event.
Shout out to the winners of the Teraria Pax Karaoke event.
🥇 First Place: Suvi#3834
🥈 Second Place: esenik#1700
🥉 Third Place: Zacc#8060
🏅 Fourth Place: permyriad#3947
🏅 Fifth Place: nickabovethecity#3284
Check out the full set of merchandise we were giving away as prizes at the event!



Until next time, Terrarians - we hope you have an amazing month, and we look forward to bringing you the latest and greatest next time!

Back to Table of Contents
​
Last edited: