Consigliere
Staff member
Re-Logic
Administrator
Greetings Terrarians!
May? It is seriously the end of May already? 2022 is certainly on an express train in terms of how fast time is flying by! That said, we hope you are as ready for Summer as we are... and it is shaping up to be an action-packed Summer indeed! What all do we have in store? Well, time will tell - but let's kick things off the right way with our final State of the Game update before Summer 2022 is here in earnest!

STATE OF THE GAME - TABLE OF CONTENTS
PC NEWS - RE-LOGIC
TMODLOADER NEWS - TML TEAM
CONSOLE NEWS - DR STUDIOS
MOBILE NEWS - DR STUDIOS
COMMUNITY NEWS

CHICKEN BONES JOINS RE-LOGIC
As our team is preparing to embark on the journey that will be our second game, we realize that there are some gaps in the team's skillset that we would like to fill - as well as the overall need for more quality folks in general. With all of that in mind, it is with great pleasure that we formally announce that long-time Terraria modder and core tModLoader Team member Chicken Bones has joined the Re-Logic family!
Chicken Bones (CB for short) is well-known in the Minecraft modding community, and he has a long history with Terraria and modding in general. Coupled with a strong background on the Technical/Tooling side of the coding world (a big need for the team moving ahead!), he will be an invaluable addition to the team. He has already been working hard alongside our core team, with a current focus aimed primarily on the development of tModLoader and tModPorter. Once full work on our second title begins, he will be part of the core development team that will be responsible for bringing that all together!
Please join each of us in giving Chicken Bones a heart-felt welcome to Team Re-Logic!
TERRARIA - LABOR OF LOVE UPDATE
The Labor of Love update is getting really close to reaching the goals and vision that we have in mind for it. Does that mean we are ready to give you a launch date? Well, not just yet - but know that we are feeling like it is getting closer and closer... so not too much longer, we think. Why do we call this update Labor of Love? Well, the award you all so graciously decided we were worthy of for one, but your support goes well beyond that. It has been a while since we gave a numbers update, and they are pretty staggering:
TERRARIA


TOTAL: 44.5 million units sold
23 million on PC
9.1 million on Consoles
12.4 million on Mobile

(Launch-to-date for PC, through Q1 2022 for Console/Mobile)
45 Million soon, and then... the road to FIFTY MILLION
That is just insane, everyone. It is this support - along with just how loyal and engaged each and every one of you are that enables us to be who we are and do what we do each and every day. To say it is humbling and amazing would be beyond an understatement. So, we will once again just say thank you - sincerely, thank you from the bottom of our heart. We don't take this lightly, and we really look forward to continuing to earn your support and trust in the years to come.
Moving on with our news, if you want a glimpse into what goes into the process of how we look at release dates vs ongoing work... well,
@ChippyGaming
has a breakdown of a recent chat Red had on Discord:
With that said, let's jump right in to more of what you can expect in the update, shall we?
In case you have missed the series of spoilers that have been shared by various members of the development team over the past month, we have compiled all of them for you below.
Town Slimes are ready to move in!
Melee is evolving... just ask the True Excalibur
Decorate your world with all the hearts and stars that your... heart... desires?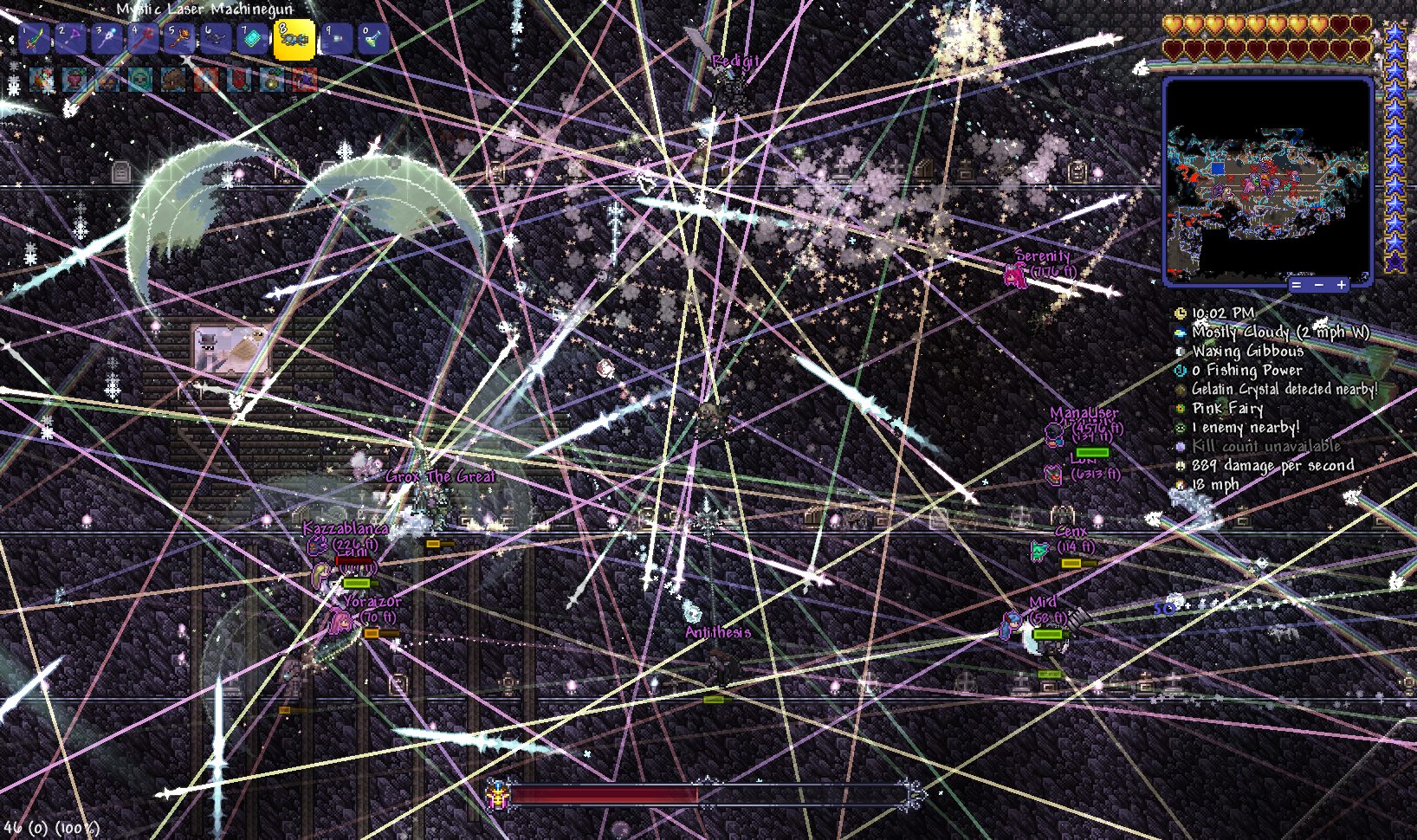 Either a scene from the Re-Logic Rave or the Empress of Light has been getting ready for Labor of Love
So much going on here... we will just let you see what you can find
Ropes and Cart Tracks, living together, mass hysteria!
Info Accessories are now more informative (or at least easier to read)
Macaws have landed in the Jungle!
Toilet Fishing? Toilet Fishing.
So all of that was shared in the last month alone... but wait, you want something new? Ok then...
You can now exchange your pet by using another Pet License! (They can now be purchased infinitely from the Zoologist)
Summoning Moon Lord with the Celestial Sigil now has only a 12 second summoning period instead of 60 second
Reduced the crafting cost of Celestial Sigil from 20 of each fragment to 12
Hive Pack now increases the fire rate of the Hornet Summon and increases the damage and defense penetration of Wasp Gun
Remember that absolutely beautiful Coral build from last month's State of the Game? Well... about that...

STEAM WORKSHOP NEWS
The level of quality and quantity on the Terraria Steam Workshop keeps on growing and growing - with over 55,000 packs and worlds so far, you are missing out if you haven't taken the time to check out the Workshop yet. What are you waiting for?!
We hope to get around to doing some "summer cleaning" of the Workshop once Labor of Love settles down a bit. If you get what we mean.

Click the banner above to check out the Terraria Workshop!

WHAT ELSE IS GOING ON?
Labor of Love is starting to enter its final phases, so parts of the team are placing an eye back on the future and project two.

As always, keep your bug reports coming via the handy bug report button below!

Thanks again, Terrarians - we are as always blown away by your support!
Back to Table of Contents

​
Hello everyone!
May was one of the most productive months for TML development in quite a while! There is so much going on behind the scenes as we push ever-closer towards the release of TML 1.4. Want all of the details? Read on!
As mentioned above, we have had our busiest month in a long time, having merged almost 60 code changes - nearly double a regular month! This is all thanks to a large push from every contributor and the TML Team, so that we could deliver 1.4 in time for 1.4.4.
On June 1st, we will be changing the default version of tModLoader from 1.3 to 1.4. To be clear, this is not intended to be a full feature-rich "launch", but rather represents the substantial step of TML 1.4 leaving Alpha and moving into a formal Continuous Release Cycle.
The current 1.3 version will remain available in a Beta Branch on Steam in order to allow players to continue to use any mods that are or do not update to the 1.4 era. Instructions on how to use this version if you so choose are located here >
tModLoader guide for players · tModLoader/tModLoader Wiki
​
In addition, 1.4_soundfix, now known as "Sound Playback Reimplementation", has now been merged and we have eliminated the MergedTesting branch. This was holding up a few big mods, so hopefully, this will make life (and updating) easier for those teams!
Whew, that's a lot of work done! Lots still to go… but the team is really enjoying the wave of momentum right now, excited to reach this key milestone with 1.4, and ready to get to work on what remains!
As always, you can keep track the current progress and such more in real time at
tModLoader/tModLoader
(But note that the completion percentage doesn't mean anything, because issues and PRs don't have weights.)
Developers who are willing to contribute may do so by doing PRs to the
tModLoader/tModLoader
branch. (See
tModLoader/tModLoader
)

TMODLOADER ISSUES/BUGS
The Re-Logic team does not directly develop TML, so bugs with TML are best reported via the links below.
tModLoader - Play Terraria with Mods!
https://tmodloader.net/discord
Back to Table of Contents

CONSOLES - PLAYSTATION/XBOX/SWITCH
We spent much of the month of May with our heads down, focused on getting fixes for the 1.4.1 - 1.4.3 update out to everyone. As of now, these fixes should be in your hands on all platforms, with the possible exception of Switch/Stadia/Amazon, which are still pending review. If you missed what all was addressed, check out the link below!
TERRARIA 1.4.1 - 1.4.3 CONSOLE/MOBILE FIXES
What else have we been up to? Well, exploring a few things that we still need to get in your hands (we haven't lost sight of things like Splitscreen+Online Multiplayer)... and maybe dabbling a bit into the future. What could that mean? Well, have a sneak peek then!

The team is feeling pretty good about console at this point, but we know a handful of bugs and issues are still wandering out there in the wild. We have most of these documented (again, the best way to make sure your issue is seen is to file a Bug Report in the TCF Bug Section by pressing the button below!)
Back to Table of Contents

Hello everyone!
As with our work on Consoles, we have been pushing out fixes for a variety of issues that cropped up from our latest update for Terraria - the contents of which are linked below.
TERRARIA 1.4.1 - 1.4.3 CONSOLE/MOBILE FIXES
Of course, if you are still having issues, get your reports in to us via the link below:
TERRARIA: JOURNEY'S END MOBILE BUG REPORTS
Well, that should about do it on the Mobile front... wait, you wanted a spoiler too? Well, in case you missed it, we made sure to capture some mobile footage while we were in the time machine...
Thanks as always for the honor and trust you give us each month to work on Terraria - it is not a responsibility that we take lightly, and we look forward to bringing more amazing things to you all as we move forward.
Here's the latest and greatest happenings on the Community side of things. Thanks as always for being the most engaged and awesome gaming Community ever!

TERRARIA MERCHANDISE STORE HUB
​
The merchandise hub is where you can find all of the latest and greatest Terraria merchandise - and we are kicking off the new year with a handful of new offerings, including brand new plush! Check out the latest merch drops as well as some classics and pick up that epic Terraria gift for a friend (or yourself!).
Click the banner above to head to
Terraria.org/store
now!

TERRARIA MERCHANDISE UPDATES
VIDGLO DROP COMING SOON
Our fantastic partners at Vidglo (terraria.shop) are expecting to have some new fun stuff available for fans to pick up very soon. We expect to be able to cover those in this space next month, so definitely stay tuned!

OTHER COMMUNITY NEWS
IT'S A SECRET TO EVERYBODY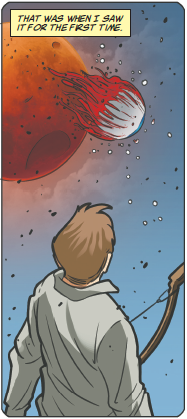 TERRARIA LEGO IDEAS CONCEPT UPDATE - HELP MAKE THIS HAPPEN!
​
Our Terraria Lego idea made by JaoGosma continues to see strong growth in support from Terrarians everywhere - and is now only 3.1k supporters shy of being the most-supported concept on the Lego Ideas platform. We know that if everyone pulls together here, we can push it to the top... so if you like this idea and want to give it the best chance of possibly happening, be sure to lend your support!
TERRARIA LEGO IDEA

r/terraria Million Subscriber Milestone
We are nearly to one million r/terraria subscribers! We anticipate crossing the milestone in the next few days. To celebrate the occasion, we are planning on creating a forum post, Discord channel, r/terraria thread, and other locations where the community can share their favorite r/terraria threads from the past. Feel free to reminisce on your favorite r/terraria threads throughout the years and share them when we cross the one million subscriber milestone. You can also share any description or reason why specific threads are memorable and/or your favorite.



Until next time, Terrarians - we hope you have an amazing month, and we look forward to bringing you the latest and greatest next time!

Back to Table of Contents
​
Last edited: